There's music photographers: and then there's music photographers.
One of the great rock photographers of a generation, Steve Gullick, has produced a priceless photo journal capturing his time with some of the greatest bands and musical personages of one of music's most fertile, legendary eras.
Such was showcased in his Punk As Fuck exhibition in London last year, which exhibited a selection of his favorite photos from the early nineties music scene – an era that, I maintain, produced most of the greatest, most enduring, music that has ever been recorded.
The picture at the top of the page is one of many photographs of Kurt Cobain and Nirvana in particular that Gullick took.
Gullick captured some of the most resonant and enduring music images and moments-in-time from the last two decades, including everyone from PJ Harvey and Radiohead to the acts and gigs right in the thick of the grunge scene in Seattle.
A lot of Gullick's photos are iconic: though you might not have known their source, even if you'd seen them before.
The coffee-table book will contain reproductions of Gullick's most iconic images, with additional unseen and rare photographs of influential early nineties/late-eighties acts including Nirvana, Soundgarden, Mudhoney, Screaming Trees, Pearl Jam, the Jesus Lizard, Hole, Sonic Youth, The Melvins, among many others.
And it features a forward by the renowned music journalist Everett True.
"Nirvana entered my life in October 1990 when I heard 'Sliver' on the John Peel show," the prolific photographer says on the Pledge Music site. The NIRVANA Diary (a slightly misleading title, given the other superb bands and artists featured in Gullick's archive) is a picture journey spanning from that time in 1990, through Nirvana's Reading Festival appearance in 1991, right through to the famous and somewhat disturbing Eddie Vedder session with Melody Maker the week of Kurt's death in April 1994.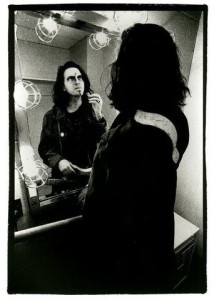 I remember that Eddie Vedder interview vividly; Cobain and Vedder were two of my foremost cultural and musical heroes at the time (I was only 14); that week one of them had died under horrible circumstances and the other appeared to be losing his mind; the Vedder photographs (picture above) from that interview were disturbing, though iconic, and have stuck with me ever since.
Which is in itself a testament to how powerful music photography can be and how indelible a mark the right image can make in one's consciousness.
This being one of the reasons a book like Gullick's The NIRVANA Diary needs to be out there.
Again, my complaint is in calling it the 'Nirvana Diary': which seems like a downplaying of the other artists and subjects. I get that Nirvana are being put in the title for marketing purposes: but when your subjects include the likes of Soundgarden, Pearl Jam or PJ Harvey, centering the marketing on only Nirvana seems a little unnecessary… and I could even say a little disrespectful?
I don't know; maybe I'm reading too much into that aspect of it.
Some of Steve Gullick's best and most iconic photography is of Bjork. Perhaps Bjork is just so visually interesting and such a curious subject that she lends herself to iconic or potent imagery. One of my favorite all-time Bjork photos is this one by Gullick.
At any rate, Steve Gullick has an extraordinary archive of photographs: a record of an extraordinarily rich time in music and culture.
And this book will certainly serve as a monument to that.
You can pledge your support for the book here.. http://www.pledgemusic.com/projects/nirvanadiary.
Steve Gullick's photography site is here.