The

FIFA World Cup;

the greatest sporting event on the planet, and the greatest stage every 4 years for

"The Beautiful Game".
A stage where heroes and villains alike are made. A stage where rivalries are forged, where tensions run high, where vengeance is often exacted, where quality doesn't always prevail, where injustice often flourishes, where cheaters can and do often prosper, where tears are shed and celebrations abound, where there is joy, sorrow, pain and regret, where there is great brilliance and incredible idiocy, where people are crucified and others are deified… and a stage where iconic moments and memories are created.
That's why the football (or "soccer", depending on where you're reading this) World Cup is the ultimate sports event. I'm generally not a sports person; football (or soccer, sorry) has always been my only sport of interest, and even with football my interest level comes and goes.
My own love affair with the FIFA World Cup goes back to watching Maradona in Mexico 86; and has continued since then. Even at times where I've lost interest in football at the club level (such as these last few years), when World Cup time comes back around every 4 years my interest level duly returns to maximum and I'm primed and ready to take my seat in the great Coliseum of world football that the tournament represents.
To witness the great contest, the great drama, and to forge new memories to sit alongside the old ones.
That's the main level of it for me; and it's the level that brings a lot of otherwise non sport-literate people to the party every 4 years. It's not just about the global carnival, but about football as drama; a drama that is either life-affirming or heartbreaking depending on who you are and where you're watching from at any given point.
And some people might think I'm being facetious, but the idea of football – and particularly the World Cup – as

drama

is actually a serious one; at its height it actually does have the quality of a dramatic art, of opera, or of melodrama and tragedy.
The Hercules or Agamemnon of classical myths are the Zinedine Zidanes and Diego Maradonas of today; heroic or villainous figures (depending on your vantage point) whose accomplishments or failings, whose victories or defeats, are endlessly analysed and mythologized.
And then we have these great narratives in World Cup football (some of which will be highlighted below); an utterly classic example of that is Zidane's almost fairytale return to lead France to within an inch of World Cup glory in 2006 only for him to give in to one foolish moment of anger that ultimately cost him and his country that glory. A story like that has all the qualities of Greek tragedy or of a children's cautionary tale (learn to control your anger, kids) or even of modern myth and drama – Zidane the saviour turning to the Dark Side for one ill-judged moment perhaps echoing the Darth Vader myth in Star Wars.
And no, I'm still not being facetious, but making a genuine point.
That point being that there is a genuine 'storytelling' quality to World Cup football; Zidane's the great example, but Roberto Baggio's 1994 journey/opus is another, and so is David Beckham's journey from the 1998 World Cup in France to the 2002 World Cup in Japan/South Korea; Beckham is ejected from a key game against Argentina for losing his temper for one brief moment and kicking out at Diego Simeone and is subsequently vilified by the English press and blamed solely for England's World Cup failure. In dramatic terms, this is his 'downfall'. But 4 years later when the next World Cup has come around, Beckham is still there; now he is England Captain and now he's 4 years older and 4 years wiser and he can control his emotions, keep his cool.
And so naturally – because, as I said, football is drama and that means the presence of recurring themes and dramatic ironies and twists – England find themselves facing virtually the same squad of Argentina players again and David Beckham steps up to take the penalty kick that could make Argentina's campaign a miserable one. And this is the point of both 'revenge' and 'redemption' in terms of the drama; he of course scores and in doing so he is 'redeemed' in the eyes of those who once vilified him.
This is a perfect encapsulation (though not the best) of the rich dramatic narratives within World Cup football.
It's also an illustration of what total cunts the British press can be, but that's another matter.
But when I talk about football "as drama" I'm talking about what makes the World Cup transcend mere sport; it becomes something much more than that, often taking on an aura and a resonance that is on a level with more considered art forms. As I said, I'm not really a sports type; but I can converse over a drink for hours if need be on abiding memories and dramas of past World Cups – on the highs and lows, the twists and turns, the heroes and villains, the different tactics and counter-tactics, the injustices and the vindications.
Once you look beyond the surface level of nationalistic flag-waving, tribal chanting and men in shorts (which I totally understand can be highly unattractive for some), you'll find there is an endlessly fascinating arena of human drama – and of course sporting quality – to be engaged in and excited by.
My personal favorite World Cup from my lifetime, for the record, is Italia 90; a tournament I'm so nostalgic about that I've decided to cover it in a separate post.
Below then are 20 moments I've picked out from World Cup history. I should add, however, that these are the 20 most memorable moments of my lifetime; hence no reference to 1966 or to Pele and the Brazil team of 1970 (it feels too phoney to talk about tournaments that occurred before I was even born).
---
So this list spans only the World Cups from 1986 until now. Let's hope this 2014 World Cup creates additional moments for a list of this type (at the time of writing this, I think it already has); but these are 20 moments that for various reasons abide or resonate the most in the memory…
---
20. Dealing With Cannigia – the

Cameroon

Way (1990)
Claudia Cannigia, though overshadowed by Maradona, was probably Argentina's most outstanding player in the 1990 World Cup; the highlight for him being to score the only goal in the quarter final with Argentina's traditional rivals Brazil (a game that Brazil probably deserved to win). Cameroon were a highlight of that tournament too, beating the world champions Argentina in the opening game of the tournament; a game in which they had two players sent off, one of them for an assassination-attempt-tackle on Cannigia.
It's Cannigia's pace that's great here, as he flies passed one, then two Cameroon defenders, both of whom had tried to bring him down, until finally the third takes him out in kamikaze style… and gets ejected from the game for it.
How they dealt with Cannigia was one of the most obvious demonstrations of a team being terrified of the abilities of a specific opposition player.
19. Figo's final act (2006)
Not a moment that most people would think of, nor an especially glorious moment, but this 3rd place play-off between Portugal and Germany in 2006 (in which the superior German side slaughtered the Portuguese) saw the final international appearance of the Portugal captain and national legend Luis Figo.
For all the talk of Zidane not getting to lift the World Cup trophy in 2006, it's worth remembering two other great names and talents in world football who captained their countries in the 2006 tournament and had their last shot at trying to get to the World Cup final – Luis Figo and David Beckham.
Portugal came closest (and eliminated England along the way in a quarter-final match, the only memorable moment of which was Wayne Rooney being sent off at least partly due to Cristiano Ronaldo's manipulations).
Forget Cristiano, Luis Figo was the real hero of Portuguese football and it was during his central role in the "Golden Generation" of Portugal that Portugal's most memorable flashes of greatness occurred and under his captaincy that they had their greatest international success, reaching the Euro 2004 final and the World Cup 2006 semi-final.
Figo, like Beckham, is one of the great world players never to have played in a World Cup final, and like England's own Beckham-centered 'golden generation' of players the likes of Figo, Rui Costa and Nuno Gomes among Portugal's other top players of the time always fell short of going the distance (how in the name of fuck they didn't beat Greece in the Euro 2004 final on home soil I will never know).
Despite untidily eliminating England in the 2006 quarter final (which ended the final international hopes of Figo's friend David Beckham and England's last genuine potentially world-beating squad) and getting to a semi final with France, Figo and Portugal were undone by another of Figo's club friends Zinedine Zidane – the same man who'd denied Portugal's Golden Generation its path to international glory in 2000.
In his final appearance, in this otherwise uninspired game against Germany in 2006, Figo was brought on as a substitute and provided an absolutely perfect cross into the box for Nuno Gomes (a scorer of numerous vital goals for Portugal over the years in major tournaments) to score their only goal of the game.
It was an immaculate, fitting final act to remind everyone of just how great a playmaker he was and how much a world-class presence on the football pitch.
18. Ireland Graces Italia 90 (1990)
One of the many highlights of Italia 1990 was seeing Jack Charlton's Republic of Ireland enjoy unprecedented success in their first World Cup appearance, getting all the way to the last eight and even then only losing to host nation Italy.
The color and character Ireland's success and involvement brought to the tournament was substantial and was one of the most memorable elements of what I maintain was the most memorable World Cup of my lifetime; which is probably why I remember Ireland's 1990 adventure more than their equally (or even better) success in the following World Cup of USA 94.
The level of atmosphere present at Ireland's games, the passion of the travelling fans, and the dogged spirit of the underdog Irish squad… it all made the 1990 Ireland squad the team you always wanted to root for.
17. South Korea Defeats Italy (2002)
There's always something enjoyable about watching the classic underdog nation get one over on one of the giants of the game; Cameroon against Argentina in 1990, for example, or Senegal against France in 2002. But Ahn Jung-Hwan's goal against Italy – the goal that eliminated Italy from the tournament – while not anything special in itself, is memorable for how much controversy it caused.
The game itself was controversial in terms of how many referee decisions favoured the South-Korean hosts over the Italians; the FIFA President ended up having to comment publicly about the game. The goal-scorer Ahn was told by his club president Luciano Gaucci that he would never play for Perugia again (!).
Questionable decisions aside (how often are the host nations favored by officials in general?), South-Korea remaining in the tournament imparted something to what was left of World Cup 2002 by that point, as it's always best for atmosphere when a host nation is still involved (and the co-hosts Japan had already been eliminated). And, fate being a great leveler, Italy got to win the World Cup the next time around.
16. Andres Escobar's Own Goal (1994)
Not a good moment, of course.
And it's not a moment that would be memorable if not for what happened off the football field and away from the World Cup days after. Having scored an unfortunate own goal in a 2 – 1 defeat to 1994 World Cup hosts USA, Colombian defender Andres Escobar was shot dead days later by Humberto Castro Muñoz, a bodyguard for members of a Colombian cartel.
Watching that footage of the own goal now makes for uncomfortable viewing, knowing that Escobar would end up paying the ultimate price for his simple, commonplace mistake.
15. "Total Football" – the Argentina Way (2006)

An advert for "Total football" and the epitome of the proper team goal at the highest level of the game, this Argentina goal against Serbia & Montenegro in the 2006 World Cup had everyone ooohing and aaahing, with its smooth, effortless distribution of the ball, one-touch pass after pass all about the pitch eventually culminating seamlessly in Esteban Cambiasso's clinical finish.
Reminiscent of Brazil in 1970 and even somewhat of the Maradona goal against Greece in 1994, this is how gorgeously football can be played. Argentina in truth were probably the best team in that tournament alongside Germany.
14. Saeed Al-Owairan's Wonder Goal (1994)
One of the greatest goals in World Cup history was also one of the great flash-in-the-pan moments, as Saudi Arabia's Saeed Al-Owairan scored with this incredible solo effort in USA 1994.
Possibly even a better goal than Maradona's in 1986, but without all the accompanying narrative and drama of the Maradona/Argentina saga, Al-Owairan's unexpected moment of glory is largely a side-note for most people.
13. Maradona's Golden Cameo in the Batistuta Show (1994)
Love him or hate him, no one could deny Diego Maradona was one of the great characters – and of course great players – of football.
Thoroughly unendearing, yes, and a cheater, yes, and a mad egotist, certainly; but his skills with a football are almost impossible to match. This memorable goal in the 1994 World Cup was more a classic Argentina team effort than a piece of individual Maradona skill, but it's a quality finish – and is all the more memorable for the drug-fuelled Maradona's emphatic, slightly psychotic-looking celebration being one of the most memorable of all time (maybe Italy's Tardelli celebration from 1982 could beat it).
Literally after this game Maradona was ejected from the tournament for failing a drugs test and it ended there.
Some might say it was an inappropriate end to a glorious career; I'm actually more inclined to say it was a fittingly sordid end to a pretty sordid career. A man known for cheating finally attempts one cheat too many and finally gets his comeuppance.
I'm not sure how much that 1994 Argentina squad – a squad that included Gabriella Batistuta and still had Claudia Cannigia, who'd made his name in Italia 90 – needed Maradona in actual footballing terms, but clearly his departure had a detrimental effect in psychological terms because Argentina floundered in spite of all their quality.
Batistuta had some great moments, particularly in this same game against Greece, and Cannigia had one more stab at World Cup glory, putting two suitably fabulous goals past Nigeria, but that's about as far as it went in USA 94.
12. Ghana Flying the Flag For Africa (2010)
Replacing Cameroon and Nigeria as the cardinal African side in World Cup finals football, Ghana reached their peak (to date) in South Africa 2010 when they were the last African side left standing in the quarter finals.
Their quarter final against Uruguay was the tournament highlight and in fact few would argue that Ghana should rightly have been in the final four; and they would've been but for a brazen hand-ball on the goal-line by Luis Suarez in stoppage time for extra time.
Asamoah Gyan missed the subsequent penalty, but we could only wonder what would've happened had Ghana not been cheated out of their victory. Would they have beaten the Dutch in the semi-final? Could we have had a Ghana Vs Spain final – how much more interesting, how much more exciting, would that have been?
Compared to the dull-as-dishwater Holland/Spain final we ended up with, a Ghana/Spain final in Africa with the entire continent behind them and all the vuvu zelas' deafening sound, would've been the more fitting, more exciting end to South Africa 2010 – even if Ghana would've inevitably lost.
It also would've been a great landmark in World Cup football for an African side being in the final.
All of that rich possibility was vetoed because Luis Suarez cheated.
It is and will always remain my opinion that the rules need revising in regard to goal-line hand-balls; as far as I'm concerned if the ball is clearly going over the line and is handled by a non-goalkeeper to prevent it doing so, it SHOULD COUNT AS A GOAL. AS A GOAL. There is NO POINT in awarding a penalty, because a penalty is a 50/50 situation; a goal denied by a hand-ball is NOT a 50/50 situation, it's a 100% goal situation being prevented by CHEATING.
It makes no sense to replace a 100% goal likelihood with a mere 50/50 opportunity… because the penalty-taker could miss, just as Asamoah Gyan did for Ghana. It essentially means that the cheater can prosper. And that's not right. Whereas if the goal is simply given in that situation, justice is served and players will be even less inclined to cheat on the line because it won't accomplish anything.
OK, I'm dismounting from my high horse…
11. "It's Baggio.. Still Baggio; he's taking them ALL on!"
Although Roberto Baggio's real golden moment was in Italy's USA '94 campaign, it was in Italia 90 that he made his first impact on the international scene and became his generation's Italian football hero.
Having been signed for 7 million just before the World Cup, making him the most expensive player in the world at that time, most people outside of Italy had very little knowledge or understanding of why he'd cost so much.
It was in this match against Czechoslovakia that the question was answered; Baggio picking up the ball up near the halfway line, exchanges a quick one-two and then proceeds to take on several opposition defenders, bypassing them one by one and then finally scoring with a decisive finish and celebrating like the Spirit of Christ is just leaving his body.
What a way to announce yourself.
10. Ronaldo Does the Business (2006)
In 2006, the reigning world champions Brazil should've been cruising towards yet another World Cup victory; they still had that great set of players that had won the tournament 4 years earlier; Kaka, Ronaldinho, Adriano, Roberto Carlos, with Robinho added to the mix. And of course Ronaldo – one of the World Cup's all-time great players.
But Brazil wasn't performing as expected this time around, and Ronaldo at times had seemed like a shadow of his former self. Writers and commentators were in fact starting to make fun of him for his physical weight and his slowness of movement; he was being written off as a has-been who didn't belong on that stage anymore.
But then in a game against Japan, a flash of the old Ronaldo emerged; the first goal was a simple enough header, but the second goal – a swift turn and pointed strike from outside the penalty area – was a bit of brilliance that made Ronaldo the all-time top goal-scorer of the World Cup finals.
It didn't really matter in the tournament – Brazil were out to France a week or later; but I always liked that moment. It was a just a nice 'fuck you' from Ronaldo to all his critics. He may have been carrying some extra weight and unable to move like he once had, but with skill and technique like that who needs pace?
That tournament was also one that had a slight sentimental element to me, being the farewell tournament for a number of the great names in world football; players whose presence has been missed in subsequent international tournaments – Zidane, Luis Figo, David Beckham, Alessandro Del Pierro, and in this instance Ronaldo.
However, scoring those goals and breaking that record was at least a nice, fitting way to bow off the world stage.
9. David Beckham's Free Kick (2002)
Not a World Cup finals moment admittedly (but a World Cup qualifier), but it's difficult not to include this when I think of incredible moments. England in 2002 needed a draw with Greece in their final qualification game in order to reach the World Cup finals. In the final moments of that game, the needed result hadn't been attained and England were moments from elimination.
A free-kick awarded and up steps resident dead-ball-meister David Beckham.
One clinical, glorious kick of the ball later England are qualified for the 2002 World Cup and David Beckham confirms his status as the modern hero of English international football. Only he could've stepped up to that ball, under those circumstances, and put it in the net from that range.
He took England into that World Cup. What a moment.
There is no question in my mind that David Beckham is the greatest England player (note: not the greatest English player, but greatest England player) of our lifetime, even more so than Paul Gascgoine. No England player has had as much passion for the national side, nor as much direct influence on key games and moments, as David Beckham has; and it was under his captaincy of the side that England had its best chance of post Bobby Robson World Cup success.
8. Cameroon Shakes Up World Football (1990)
Cameroon's unprecedented success in Italia 90 is one of the great stories of World Cup tournaments. Their first ever World Cup appearance enlivened the tournament, infusing with an unexpected verve. Beginning with their shock defeat of reigning champions, Maradona's Argentina, in the tournament's opening fixture (a game that included two red cards for the African side and an attempt to massacre Claudio Cannigia every time he got the ball), Cameroon ploughed on and on, their cardinal goal-scorer Roger Milla enlivening the tournament and pretty much inventing the eccentric goal celebration, and the team paving the way for the rise of African football on the world stage.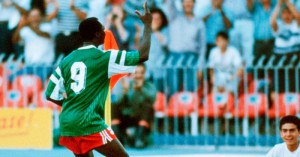 It ended with England in the quarter finals, but England only just scraped through and needed two penalties to do so. Franz Beckenbaur had stated he was more afraid of facing Cameroon in the semi-final than England.
7. "Toto" Schillachi! (1990)
Italia 90 is even now the World Cup I'm still most nostalgic about, the one I wish I could experience all over again for the first time. A large part of that was the parturient Italian setting. And what people most remember about Italy's football contribution to that tournament was Salvatore Schillachi; the unheard-of third or fourth choice striker who came off the bench and out of obscurity and scored… and kept scoring, eventually becoming the tournament's top goal-scorer, receiving the coveted Golden Boot.
The Sicilian even beat the likes of Lothar Matthaus, Diego Maradona, Roberto Baggio and Paul Gascoigne to be named player of the tournament.
It was a real flash-in-the-pan moment of greatness when Italy had most needed it, coming not from Gianluca Vialli or any of the stars, but an unknown Sicillian who really didn't look like a footballer at all and emerged like some kind of God-sent secret weapon to be broken out in emergencies.
Out of the shadows and mists he came, and back into the shadows and mists he returned as within a couple of years of Italia 90 "Toto" Schillachi had already lost his magic powers and gone back to whatever magical forest he'd briefly emerged from.
6. Michael Owen vs Argentina (1998)
Argentina is, it's fair to say, even more a bitter rival to England than Germany; the Germany rivalry seems to be more about tradition than actual bitterness or recrimination, whereas the Argentina rivalry has much more bite to it, some of it rooted in the Falklands nonsense and much of it in the subsequent Mexico '86 quarter final and Maradona literally cheating England out of a semi-final place.
Several World Cup meetings between the two nations after that were tense, vindictive affairs; in 1998 it included David Beckham being sent off and then villified by the notoriously unkind English press, blaming him for England's exit from the tournament (sports journalists, especially in England, are big on scapegoating).
In that same game, a young Michael Owen announced himself on the global stage by scoring one of the goals of the tournament, making a joke of the otherwise high-caliber Argentine defense. It was the kind of moment England players dream of; and the kind that few England players have replicated on the World Cup stage.
The later petering out of Owen's career due to injuries is one of the great misfortunes in English football, as Owen was one of the few England national-team 'stars' since Gary Lineker that could demonstrably deliver on the biggest stage, and had his career had its natural span of time not shortened he could've contributed greatly to England's international record beyond 2002.
5. Ronaldo Redeemed (2002)
In the 1998 World Cup Ronaldo, the best striker in the world, had been the primary star of the tournament; but it ended with a whimper for the expected champions Brazil when they suffered a shock 3 – 0 defeat to France in the final. Ronaldo, it has since emerged, had suffered a seizure hours beforehand and had been unconscious.
Advised not to play by doctors, he nevertheless was on the team-sheet either by his own choice, by the manager's choice, or at the insistence of Nike and other sponsors (depending on what source you listen to and which you trust).
His presence-of-mind was scattered, his performance weak and the Brazil team looked disorganized and impotent, proving how important a single player can be in a squad; just as Maradona more or less carried the Argentina squad to victory in 1986 and Zidane carried France to the 2006 final, the Brazil squad without a properly functioning Ronaldo went from being absolute tournament favorites to a team that could lose by three goals to France.
However in the very next tournament, in Korea and Japan in 2002, Ronaldo was back and he and doubly determined Brazil once again blazed through to the final, this time winning it; and Ronaldo doing the goal-scoring and taking the primary glory.
It wasn't just a victory, but a rectification of past misfortune. Few players in World Cup football get the chance – or more accurately make the chance – to put right past failures and losses like that. In fact, few people in life get to go back and try again. But Ronaldo was that good.
—–

4. "One Night in Turin…" England vs Germany (1990)
It remains the greatest, most nail-biting, most dramatic, most emotionally resonant, England football match in living memory; Portugal/England from Euro 2004 matches it for me as a football match but without the perceived emotional undercurrent. Everything about this semi final still resonates; everything from Gary Lineker's equalising goal and Chris Waddle's world-class attempts to win the game for England, to Sir Bobby Robson's all-too-obvious attempts to contain his terrible disappointment and Paul Gascoigne's tears at the thought of missing the World Cup Final.
For all the subsequent England teams and campaigns (which have included, on paper, much stronger squads than the Italia 90 squad) and all the superstar names, no England team has come as far this one did in 1990 under the stewardship of England's most effective and by far its most endearing and likeable manager Sir Bobby Robson.
Franz Beckenbaur's Germany were probably the best team in the tournament and overall worthy winners of Italia 90; but the argument can certainly be made that Bobby Robson's England were the better team on that night.
And that night in Turin still remains the greatest achievement of England on the world stage in most of our lifetimes; and frankly it's hard to see it being matched by England for a very long time yet.
It's actually Bobby Robson's face and not Gazza's reactions that most move me now when I look back at that footage; he knew how close he'd come to fulfilling his dream and getting England into the final (for what would've been a grudge match/rematch with Maradona and Argentina – imagine what that would've been like).
Instead it was Bobby Robson's final game as England manager. I still almost get misty-eyed thinking about Bobby Robson's face at the end of that game; just knowing how close it had been, how close he'd come.
3. Maradona in Mexico (1986)
There's some particularly exciting and memorable when a single player shines and carries his nation through a tournament; for example, Zidane in 2006 and Baggio in 1994. The difference with Maradona is that he got to lift the trophy.
Yes, England were cheated by a crafty hand job; but there's no denying his god-given talents and the way he took ownership of that Mexico '86 tournament and carried the Argentina squad on his shoulders.
And as thoroughly dubious as the "hand of God" goal against England was in that quarter-final, the second goal is justifiably regarded as the greatest individual goal in football history.
You can vilify him if you want; but there's no bigger legend in world football than that of Diego Maradona: and his extraordinary performance in Mexico '86 stands as his crowning triumph and greatest moment (even more so than his transformation of Napoli from tiny Italian club to trophy-winning conquerors).
There's just no denying it – you want to hate him, but you have to acknowledge the truth about his extraordinary level of skill. That guy must've been practicing with a ball since the age of six months; you know what, he probably dribbled his way out of the vagina. That sounds disgusting, I wish I hadn't said it…
2. Roberto Baggio (USA 1994)
Having made his memorable entry into broader consciousness during Italia 90, Roberto Baggio truly cemented his stature as a World Cup hero in USA 1994 when both his goal scoring prowess and his talismanic presence helped Italy through to the final.
He was the player of the tournament by far. Often the biggest-name stars with the most expectation on them fail to rise to the occasion of the World Cup, but Baggio – like Ronaldo in 1998 and 2002 – well and truly lived up to his name and stature and firmly became an Italian national hero.
But, like Zidane over a decade later, the great story was deprived of its perfect ending; and instead of remembering Roberto Baggio's goals and performances, most people instead remember him missing the penalty that handed World Cup victory to Brazil. It was another Greek tragedy; there seems to be a strange motif recurring in some of the most memorable World Cups – the story of the tournament's great player, its great star, getting all the way to the final and then being dramatically denied their glory at the last moment.
That was the story of Zidane in 2006, of Ronaldo in 1998, and of Roberto Baggio in 1994.
The best team doesn't always win the tournament, of course; and in fact the Italian side of 1994 probably deserved that World Cup even more than the actual World Cup winning side of 2006 did. And it's a fascinating fact that the perfect fairytale story in football hardly ever completes itself; in fact you can almost set your watch to it doing the opposite.
Thankfully, however, this misfire at the end didn't cost Baggio his status as the darling of Italian football; no more than it cost Zidane is French hero status in 2006.
1. The Return, the Rise and the Fall of

Zinedine Zidane (2006)
It's an unforgettable World Cup story that people – not just in France – will probably talk about decades from now; Zinedine Zidane, World Cup winner of 1998 and one of the greatest players in world football, came out of retirement to captain a thoroughly lackluster French team for the finals in Germany. There is absolutely no question that Zidane not only revitalized that France team (a team that only barely managed to qualify for the tournament) but also that he single-handedly carried that side all the way through to the final, beating Spain and Brazil along the way.
Probably not since Maradona in 1986 had there been so obvious a case of one individual making all the difference.
Once Zidane had gotten France to the final, it had seemed likely that his and their second World Cup victory was written in the stars; the story seemed scripted by fate – the great hero of French football comes back from retirement and single-handedly carries that side through the tournament; by the time France had eliminated the superstar Brazil squad (Ronaldo, Kaka, Ronaldinho, Carlos – all present), I couldn't have been the only one beginning to think it was written for Zidane to be lifting that World Cup trophy; and what a glorious, fitting end to his career that would've been, of course.
Instead Zidane, having scored the opening goal, bulldozed Marco Materazzi with his head and got himself sent off.
What should've been remembered as Zidane's glorious apotheosis is instead remembered for an ill-tempered act of violence and the pitiful sight of one of the great players in football history having to make the long walk of shame off the pitch; which created one of the most memorable single images in World Cup history – that famous shot of Zidane having to walk passed the actual World Cup trophy on his way out, knowing that the perfect and seemingly inevitable victorious end to his dramatic campaign was lost in an instant.
As alluded to earlier, it was an operatic tragedy; the national hero, the saviour of the nation, the 'gift of the Gods' who carried them within touching distance of the ultimate triumph, allowed himself to become the very cause of their failure at the very last hurdle… and all because of one moment of ill-judged anger.
Whether he was provoked or not, whether or not Materazzi was fully intent on getting Zidane eliminated from the game (like Cristiano Ronaldo had clearly intended with his 'friend' Wayne Rooney a week earlier), the fact was that he should've known better.
All that brilliant work, that extraordinary tournament performance, all undone in one mistake, by one momentary turn to the Dark Side. That's drama.
---
That's the epic human story and the classic morality tale. That's the World Cup.
---