As much as I have mixed feelings about
Nirvana's

imminent induction into the

Hall of Fame,

it feeling like a highly unpunk state of affairs, I have to confess to being as curious as everyone else about whether the band will perform at the ceremony on April 10th

And if they do, who will be taking vocal duties? Speculation is rampant on-line, of course; I'm surprised someone isn't running a betting pool.

It's actually worth noting at this point that Nirvana haven't been confirmed to be performing; however, a now-famous Krist Novoselic tweet seems to strongly suggest so.

If it happens, it will be the first 'Nirvana' performance of actual Nirvana material for twenty years. Rolling Stone reported a few days ago that former REM frontman Michael Stipe would be inducting Nirvana at the ceremony.

Which immediately highlights how strong a candidate he would be for fronting the band for Nirvana material. It seems unlikely Stipe would be handling the induction and the performance; however, I can easily picture him singing certain Nirvana classics, like All Apologies or Pennyroyal Tea.

Given his friendship with Kurt and the fact that the Cobain/Stipe collaboration is one of the great unfulfilled projects in music history, there would be something highly appropriate about Stipe coming out of retirement to pay tribute to his friend in this manner.





Given his recent collaborations with Dave, Krist and Pat, Paul McCartney seems a likely a contender; much as I did like the Cut Me Some Slack, he would also be the least interesting, however, and I can't imagine his vocal range being able to handle Cobain vocals.

Other logical possibilities were also Dave Grohl himself and of course Courtney Love. But Grohl would surely have to be on drums; and besides Grohl has previously said he would never sing Nirvana songs and do Cobain vocals.

I happen to think Courtney would be a good choice, were it not for the bad blood between her and Grohl. Also she is almost certainly not going to be involved, if for no other reason than that there's no way she would've been able to keep her mouth shut about it – so we would've known by now.

Frances Bean has also been suggested by some commentators, but I will eat my own fucking poo if that happens.

Stronger possibilities would be artists that Cobain himself loved or worked with, such as Black Francis or Sonic Youth's Kim Gordon, or Mark Lanegan.

Failing Michael Stipe, I think Lanegan would be an absolutely perfect choice. His vocal style would suit a number of Nirvana songs, but moreover Lanegan was a great personal friend of Kurt's and they collaborated on several recordings, including the awesome Screaming Trees' 'Down In The Dark'. Having a singer already well-steeped in Nirvana history and a key voice in the Seattle scene perform with the surviving band members would make perfect sense.

Other high-pedigree alt-rock frontmen with personal Cobain connections and who might be suitable for a one-off guest-fronting of Nirvana would include Mark Arm and Buzz Osbourne, among others. Arm would definitely be a viable sort of singer, particularly for heavier Nirvana songs and especially for earlier, SubPop-era material. But Buzz Osbourne is probably too out-there, too purist, for something as mainstream and unpunk as the Hall of Fame – though it would be awesome and would LOOK great, I just don't see it being considered viable by those in suits.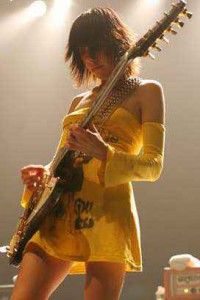 Another somewhat left-field suggestion I've seen discussed is the brilliant

PJ Harvey.

Kurt was a big fan of hers and Dave Grohl has allegedly asked Polly-Jean Harvey once before to front a Nirvana reunion.
I highly doubt this will happen, as far as April 10th goes, but actually a Nirvana guest-fronted by PJ Harvey would be an incredible idea. But she too, although a prolific and universally-respected alternative singer/songwriter, is probably too indie for the Hall of Fame organizers, who I'm almost certain would prefer someone like McCartney.
This notion, however, does get me imagining how awesome an idea a PJ Harvey/Nirvana collaboration would be just as a general idea for something in the future; I don't mean covering Nirvana songs, but forming a whole new project (and it wouldn't be called Nirvana, of course).
Meanwhile Pat Smear and Chad Channing are both NOT going to be inducted, which is a shame; I particularly think Channing has been highly underrated and unfairly sidelined over the years. I actually think his drumming on Bleach was pretty fucking good.
In any case, it will be interesting to see what happens on April 10th, assuming the remaining Nirvana members even perform at all.
I'm going to be honest; as sceptical as I am about the Hall of Fame in general, it would be really nice to see Krist Novoselic taking to the stage again.
I mean, OK, I doubt he'll do the "sensational bass toss" anymore, but still it's gotta be worth seeing him up there in all his lanky, bassy, goofy glory…