The two explosions at a peace rally in Ankara that have killed at least 128 people and injured some 245, occur amid ongoing tensions in Turkey and a danger of matters escalating to an even worse situation.
The blasts took place as people were gathered for a march organised by entirely leftist groups. The TV footage shows a peaceful, even playful, atmosphere suddenly disrupted by a visible explosion in the background, with people then either fleeing in panic and distress or on the ground covered in blood.
The attack is the deadliest ever of its kind on Turkish soil; but it comes three weeks before a re-run of this June's inconclusive parliamentary elections, and this may be a very significant point.
The peace rally, populated more or less exclusively by pro-Kurdish activists, pacifists and Turkey's liberals, was demanding an end to the violence between the Kurdish separatist PKK militants and the Turkish government. The pro-Kurdish HDP party was among those in attendance, and its representatives have said in a statement that they believe their party members were the main target of the bombings.
This is significant because the HDP is the reason the ruling Erdogan/AK party didn't achieve an outright majority election victory in June, and it isn't the first time they've been attacked either.
There are other curiosities reported from the scene of the attack. One witness to the event, Bulent Tekdemir, who was at the rally, told the BBC that the police used tear gas "as soon as the bomb went off", and "would not let ambulances through". A local resident said that angry people tried to attack police cars after the blast, while the HDP itself tweeted that police had "attacked" people trying carry the injured away.
The official line at this early stage seems to be that two suicide-bombers (allegedly with ISIL/Daesh affiliation, although 'leftists' are also being blamed) carried out the attack. But is it possible that these were attacks carried out with state collusion, or even exclusively *by* (deep) state actors and with ISIL/Daesh as a convenient cover story? That's the accusation being made by some, particularly those who perceive themselves to be the target of these attacks.
It's also odd to suggest – as many Turkish conservatives already have – that 'extreme leftists' would carry out a bombing on other 'leftists'.
Also 'ISIL' appears not to have taken any credit for the attack.
Also, as fellow independent blogger James Robertson points out in his post, 'Even if the Ankara massacre miraculously turns out to have been an authentic ISIL terror attack, the Turkish state is so deeply entwined with the criminal terror group as to make the distinction almost meaningless at this stage.' He continues, succinctly as usual, 'The worst terror attack in the history of the Turkish Republic, the people know precisely who is to blame and the thugs of the Turkish Deep State are not going to be allowed to get away with this one. Political Waterloo has arrived for the increasingly Napoleonic Erdogan and his AK party.'
As mentioned, this attack hasn't occurred in isolation. An HDP rally in the city of Diyarbakir was bombed in June, ahead of those general elections in which the party had entered the Turkish parliament for the first time and deprived President Erdogan's AK party of the majority it had sought (and expected). And in July was the suicide bombing by suspected Islamic State militants on a gathering of socialist youth activists in the town of Suruc, which killed at least 30 people.
Recep Tayyip Erdogan was excepting a big majority for the AKP earlier this year, which would have allowed him and his allies to push decisively for *stated* constitutional changes he sought to bring about to make the office of president, and obviously he himself, even more powerful.
This desire to alter the constitution has been openly stated and has caused a great deal of concern in Turkey, as a friend of this blog (Migarium) pointed out to me in this earlier post.
---
The Constitution of the Republic of Turkey (also known as the Constitution of 1982), is modern Turkey's fundamental foundation stone, laying out the rules for the state's conduct and its responsibilities to its citizens, as well as clearly establishing the rights of the people and also clearly asserting that Turkey is a secular, democratic republic answerable to the people.
---
Instead Turkey is now governed by an increasingly undemocratic, overly religious and aggressive state that is seeing the society polarise and begin to destabilise, while also engaging in illegal operations abroad and facilitating terrorism against its neighbour, Syria.
A perception, even an accusation, also lingers that President Erdogan and his government have used the Syria crisis as a means of stirring up anxieties over the Kurdish population and longstanding desires for independence, and have in turn also used the 'Kurdish Problem' as a means of stirring up nationalist feelings among the population, which in turn can be harnessed for the benefit of his government and party.
He has also, rather remarkably, blamed the West's support for Kurdish anti-ISIL fighters as being the cause of the instability in Syria (as opposed to, say, the fact that Turkey has conveniently loaned its border to would-be jihadists from all over to slip into Syria and wage war).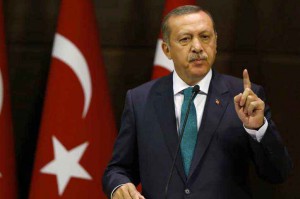 After previous incidents of unrest, many Kurdish businesses were destroyed by nationalist mobs. The headquarters and various branches of the HDP were also attacked and there were reports of lynchings of ordinary Kurds. The July terrorist incident in Suruc (attributed to ISIL) was directed at pro-Kurdish activists, yet the state's subsequent anti-terror operation resulted in the arrest of 847 suspected PKK members (and yet only 137 suspected ISIL sympathizers).
The leader of the HDP (pro-Kurdish Peoples' Democratic Party) has recently warned that the country is on the verge of a Civil War between state forces and militant Kurdish separatists (the HDP itself doesn't at all qualify as 'militant').
Were that to be so, the destabilisation effects in both the Middle East and Europe – which Turkey sits between – could be devastating.
Selahattin Demirtas had, prior to the escalation of violent incidents, been successfully reaching out to non-Kurdish voters and had won praise for his general behaviour, for example his entirely tempered and statesman-like response to the bomb attack on a HDP party rally (that killed two people) that had occurred just two days before polls in June. Demirtas has been labelled by some as the "Kurdish Obama" for both his dynamic speaking style and his perceived progressive ideas. Having won more than 13% of the vote this year, he is in theory able to lead some 80 or so HDP representatives into parliament; something that has outraged conservatives and AKP supporters.
He is credited with having transformed the HDP into a mainstream liberal party, effectively broadening its appeal beyond the basic voter base of Kurds and further to encompass secular Turks, liberals, women and the gay community, who have all been increasingly marginalised by the Erdogan government and even villified by the state.
The HDP ran on a platform defending the rights of ethnic minorities, women, and lesbian, gay, bisexual and transgender people – and was able to bring about a loose coalition between the Kurdish minority in Turkey's south-east and liberals/progressives in Istanbul and elsewhere. Erdogan himself used to be able to do this too to some degree and his party is regarded as having been much more inclusive and liberal a decade or so ago, when he and his party's rise was taken by many to have been a promising development for democracy and social inclusivity in the country.
His position, however, has become increasingly conservative, Islamist and neo-imperialist as time has gone on. The ultra-religious (at least on the surface of it) Erdogan has, somewhat amusingly, called Demirtas an "infidel".
President Erdogan, however, hasn't only been using the 'Kurdish Problem' to play into nationalist feelings, but has used it to further suppress liberals, leftists and freedom of speech and information.
To the AKP, not only are all Kurds loosely regarded as 'terrorists', but even non-Kurdish left-wingers have begun to be regarded in the same light, with all dissenters in the society increasingly labelled as a threat. This is standard practise for oppressive governments worldwide and throughout history, of course – the presence of 'terrorists' or a perceived terrorist threat are a god-send, because not only can the state take all sorts of measures for the sake of 'security' and 'order', but it can also use 'terrorist' as a blanket term for any unwanted opposition, dissent or social or political activism, and the fear of the real 'terrorists' can easily be redirected into anger towards the fictional 'terrorists'.
And the present government has cracked down on not only protesters in the streets but also on investigators within state institutions.
Last December, prosecutors had produced evidence of corruption in the government, and an audio tape was leaked in which Erdogan apparently advises his son, on the morning that the corruption scandal went public, to remove large amounts of money from their home and to hide it with family friends and associates. The President has insisted that the recording (along with other leaked tapes) are "fake".
With pretty much all major media in Turkey now under government control, there was more or less a media blackout on the scandal, which forced Turks to turn to social media in order to find out more about the scandal. The tapes had been uploaded to You Tube and circulated on Twitter, and Turks unhappy with the government were able to openly criticise the alleged corruption. Erdogan and the government responded by shutting down access to both sites. Turkish access to Twitter was only restored because the Constitutional Court insisted on it; You Tube, however, remains officially blocked now in supposedly free and democratic Turkey.
The reality is that President Erdogan clearly perceives his substantial electoral support (and it is substantial) as carte blanche to do whatever he sees fit, including undermining rights, suppressing protest, controlling the media, interfering with the independence of the judiciary, and eventually probably even altering the constitution.
For all of that, Erdogan and AKP aren't the worst-case scenario in Turkey, given the ambitions of the right-wing nationalists of the MHP; and an argument could be made that in a time of instability both within Turkey and on its borders, a strong, steady government (even one repeatedly straying towards dictatorship-like properties) is the best, even the necessary, safeguard against chaos or terrorism (which would be the argument made by, for example, President Sisi in Egypt, and is the same argument previously used by the likes of Assad). It would be understandably difficult, however, to convince the 20% of the population made up by Kurds of that notion, nor the country's many liberals and leftists who are being vilified, suppressed and often attacked by the current establishment.
It is also a fact that dictatorships and power-hungry individuals throughout history have been more than happy to deliberately exacerbate (or even create) the very instability or tension in their societies that they then claim to be the only power, party or dictator strong enough to 'fix'.
The reality is that Turkey, which for decades has sought to be a secular democracy that keeps religion at a safe distance from the affairs of government, is now being run by an increasingly dictatorial leadership that is surrounded by equally religious, Islamist conservatives who most likely regard the country's secular constitution a nuisance.
Control of the media also means that the real dangers of this state of affairs are seldom discussed honestly.
And there is of course a danger in opposing or trying to interfere with this new Turkish state. Turkish army officers and others have been accused of plotting against the present state on several recent occasions. Most recently, in September 2012, 324 soldiers were sentenced to terms of imprisonment ranging from 13 to 20 years, allegedly for plotting to overthrow the current leadership. Highly placed officers – including former chief commanders in the air-force and the navy have been sentenced to 20 years' in prison.
_____________________
So is Turkey looking at a grim future, or at least a grim immediate future, in which cultural tensions are amplified, in which an increasingly hard-line government continues to consolidate power, even potentially changing the constitution, and in which the progressives and liberals are going to be further marginalised and demonised?
Is it also looking at a security breakdown, or even, as the HDP representative suggested, a Civil War scenario that would further destabilise both the Middle East *and* Europe?
Or could things in fact go the opposite way sooner or later?
Michael Koplow, policy director of the Israel Policy Forum and an analyst of Middle Eastern politics, discusses the possibility that Turkey's future might ultimately be a liberal one, partly as a reaction to growing dissatisfaction with the current government. Could a more secularist, liberal backlash, perhaps guided in part by the HDP and its unprecedented vote-share earlier this year, change things at a crucial juncture?
And could all of these 'terror attacks' aimed at the pro-Kurdish parties and leftists have the opposite effect of what was intended and in fact unify and strengthen the opposition?
Admittedly, it's only a hypothesis, but we have to allow *some* space for optimism here and there. I personally have had a number of Turkish friends over the years, some of them committed Muslims, some of them not religious at all; but all of them were essentially liberal and progressive in outlook, and I can't imagine any of them being happy with the government Turkey presently has.
Ironically enough, a broadly liberal, progressive counter-movement in Turkey would inevitably involve the Kurdish minority and pro-Kurdish sympathisers, would result in an improved or preferable situation for Kurds in Turkey (possibly even negating future pushes for actual independence), would likely unify the Turkish liberals, and would be characterised by a moderate Sunni temperament within a secular government and state in which the constitution would be safe.
That might be the best 'hope' for Turkey, and for the Kurds too, moving forward. Whether it happens or not remains to be seen.