A coup against

Jeremy Corbyn

is now underway in the Labour Party.
Some expect him to 'do the right thing' and stand down.
Numerous media commentators are calling for him to step aside. As are senior members of the Labour Party. As many as a dozen members of Corbyn's Shadow Cabinet have resigned yesterday, abandoning him; this follows the calls for a 'Vote of No Confidence' after the Brexit vote and Corbyn sacking Hillary Benn from his team after Mr Benn was about to maneuver against him.
That the Labour Party is in crisis is obvious. But Jeremy Corbyn needs to now stand his ground. Corbyn, whatever his critics might say, has a massive mandate from Labour Party supporters and members who chose him as leader. Last year he won the leadership contest with substantial, popular, grassroots support (especially from young people); his 'legitimacy' therefore shouldn't be in question.
Most of the Labour Party's Center-Left 'Blair-ites' were openly upset, however, and there has been talk of a coup ever since.
The failure of the Remain campaign to win the referendum vote last week has now provided them with the moment and the premise from which to push Corbyn out of the picture and take the party back to its former outlook. The reason given is that Corbyn is 'unelectable' and if a short-notice General Election is called (in the wake of the unprecedented Brexit – for which NO ONE in Westminster was prepared), Labour has no way of winning against the Conservatives.
That might be true; and for a party that has now lost two consecutive elections and has just watched the Conservative Party's games completely backfire and send the country into a crisis, it is not unjustified for senior figures in the party to be desperate to want a better shot at getting back into government.
The problem is that, according to most analysts, one of the major reasons the Brexit has happened is that vast swathes of the electorate are thoroughly disillusioned with Establishment politics – including the Blair-rite section of the Labour Party. Which means that replacing Corbyn (who admittedly probably isn't going to be able to win mass support across the country) with a more slick, PR-savvy Establishment figure isn't any kind of guarantee for success anymore.
Vast numbers of Brexit supporters last week had no idea what the EU does or doesn't do for Britain, but were conducting a broadly anti-Establishment vote.
And yet these Labour MPs now moving against Corbyn are essentially proposing to remove their anti-Establishment leader from the equation.
And, in any case, you might suspect the Referendum result is merely an excuse. As Labour's Diane Abbot, a long-time friend of Corbyn's, told the BBC today, 'They have been planning this for months'.
It is also worth remembering that the Chilcot Report on the Iraq War is about to be released in a couple of weeks – after which point, that section of the Labour establishment might find it impossible to move against Corbyn's leadership, given the potential PR damage the report could do to the party's Blair-era establishment figures.
Beyond this, blaming Corbyn for the unprecedented numbers of Brexit supporters in many of the traditionally Labour-supporting areas is highly questionable. They seem to be blaming him for not campaigning enthusiastically enough. But Corbyn being lukewarm in his Remain campigning isn't what cost the Remain campaign the vote: it was all the ridiculous, over-the-top scaremongering and propaganda that many of the campaigners engaged in.
And which Corbyn kept well away from.
In essence, Corbyn has been more true to his principles and his supporters than to the party establishment. As someone who was already known to be critical of the EU, if he had suddenly turned passionately pro-EU just because Westminster was broadly engaging in concerted pro-EU campaigning, he would've been (1) betraying his own beliefs, (2) appearing insincere to his supporters, and (3) having to get into bed with some of the very same figures who have been his political enemies and detractors.
What Corbyn DID do during the referendum was to be bluntly honest.
He was in fact the most honest voice in the entire business. He openly said that he was critical of the EU and that the EU needed major reforms – but that he was nevertheless in favour of Britain staying in the EU, where it could still influence and have a say in those reforms.
Unlike all of those who were excessively propagandising, glossing over all of the EU's flaws and threatening an apocalypse if Britain was to leave, Corbyn kept it honest and simple.
He didn't patronise voters, didn't lie to them, didn't try to scare them – he simply offered his own unbiased, unexaggerated opinion of the European Union and Britain's place in it.
Essentially, he addressed the voters like grown-ups: while everyone else seemed to be addressing the voters as if they were all children. He said, in his usual, downbeat manner, that the EU was about a 7 out of 10: it needed improvement. But that Britain should stay in it.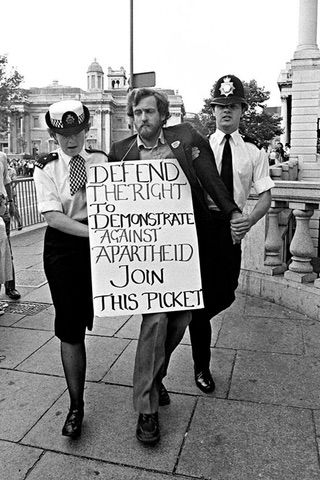 But being the plain-speaking sort of politician he is, he didn't get drawn into all the overwrought drama or exaggerated language – and he probably considered it all a little gross. Of course he kept his distance – it was an overblown pantomime that he saw was headed towards a national crisis. And moreover, it was a Tory crisis, made by the Tories, and not something he would've felt able to be a natural part of.
But through all of this madness that has been going on in this country, Corbyn stayed true to his nature and to his grassroots supporters in the Labour Party – by remaining objective, speaking honestly, and not engaging in all the games and misinformation, nor engaging in all the brainwashing going on on both sides of the referendum. He was even – perhaps in-advisedly – brutally honest about immigration during one of the interviews in the days leading up to the vote. He told Andrew Marr on the BBC that there could be no cap or upper limit on immigration in the EU.
---
He could've lied to the voters about that – which is precisely what the Leave/Brexit campaign was doing all throughout the debates, using the plebs' hate of foreigners to win support and pretending they could stop immigration – but he didn't: he just told the truth.
---
And now, while his opponents claim that Corbyn's lack of involvement caused a deficit in support for the Remain campaign, shouldn't we also ask whether, in fact, Corbyn's straight-talking might've actually prompted lots of voters to choose Remain?
How do they know who influenced what?
After all, a lot of people might've been much more convinced by Corbyn's 'I give the EU 7/10, but we should stay in' than by other campaigners' 'The EU is Beautiful, we'll all die if we leave!'
Which is not to say that Hillary Benn and the others are wrong. They may well be right. There is certainly evidence to suggest that vast swathes of the electorate are probably too stupid and ill-informed to have someone like Corbyn treating them like adults and giving them plain facts: and are probably better off with slick politicians who lie to and manipulate them into doing the right thing (or even into doing the wrong thing).
And it may turn out that Corbyn is just too honest and non-PR-savvy to succeed in this country and modern politics.
But his lack of false, slick salesman-like veneer is one of the things that has made him so popular and so trusted among those who did vote for him. And he owes it to his very large number of supporters – those who so enthusiastically voted him into this leadership – to stand his ground and try to stay in his position, even as that position is being threatened from within the party.
Because what his Labour Party opponents are now doing – as justified as it might be on some level – is actually anti-democratic: regardless of their good or bad intentions, they are trying to go against the wishes of the many thousands who voted for Corbyn and to impose their own will instead.
They are entitled to do that, if they think it's the best course. But Jeremy Corbyn is also entitled to stand his ground and refuse to leave – no matter how many journalists or commentators say otherwise.
___________________
Being a bit tongue-in-cheek here, but here's a clip of the assassination of Julius Caesar; only because it comes to mind as vaguely analogous. It's from what I believe to be the best TV series of the last 20 years: HBO's Rome…
___________________