I would

love

to have been a fly on the wall when

Donald Trump

visited his future home, the White House, to meet

Barak Obama

on Thursday.
I mean, there's a conversation it would've been fascinating to hear: a conversation between the first Black President of America and his soon-to-be successor – a man endorsed officially by the Ku Klux Klan. I mean, just process that for a moment and reflect on what it symbolizes for the direction of a society in the twenty-first century.
And hey, I'm not bashing Donald Trump – it's not his fault the KKK endorsed him (or that his father belonged to the organisation).
But it still says something anyway about the state of affairs; a state of affairs that is so toxic, so depressing, when you really think about it in its fullest terms. If George Soros has anything to do with the anti-Trump protests currently going on – which all of the 'Alt-Right' outlets are insisting; and which I accept may or may not be the case – the other side of the equation is hardly covered in fucking roses either.
And I am astonished by the sheer, blind gullibility of so-called 'conspiracy researchers' and so-called alternative, anti-establishment writers – including one or two who I respect and am on good terms with – who are so hopelessly adrift in Trump Mania that they're like Disney princesses being swept off their feet by their tall, handsome (pussy-grabbing) Prince.
I've been trying to process my thoughts about the Trump victory and whatever it is that's going to unfold in America, and those thoughts are too complicated to properly express just yet.
Instead, I want to focus on just one thing: as mentioned, Trump's odd, awkward visit to Obama in the White House. Because there are very curious things to notice if you pay attention.
Now of course the president-elect being hosted by the sitting president is the norm, even if these particular two men have been absolute enemies who've character-assassinated each other beyond belief.
Firstly, most people might've noticed how uncomfortable Donald Trump looked.
I would go further than uncomfortable – I would say he looked shaken. You could put some of that down to nervousness about his impending presidency, but my gut feeling was that this was something more. This didn't look like the same swaggering, confident, loud-mouthed character we've been seeing for months: he looked unsettled, small and overwhelmed. Obama looked relatively fine – albeit, a little insulted by having to sit with someone whose victory the Ku Klux Klan have announced they're going to hold an official celebration for in a few days.
But it seems to me that something has been said to Donald Trump – not necessarily by Obama himself, but nevertheless during his visit to the White House. Whatever it is, Trump learnt something in that visit that he hadn't known before that – and it seems like it disturbed him and took the wind out of his sails.
I've tried to speculate to myself what that might've been – but there's no way of knowing. It could've been to do with whatever's going to unfold in the next few months. He could've been threatened the same way Bernie Sanders was (though this is unlikely – if anyone wanted to threaten him, they would've done it ages ago).
Shit, he may have just been told about Little Green Men in the Nevada Desert, for all we know.
Or, to be less imaginative, maybe Obama just explained to him how complex and difficult the presidency is going to be and that there isn't enough petty cash for the Mexican wall. There are possibly simple, non-conspiratorial explanations.
But seriously, watch the footage again – he looks very shaken by something and it is very out-of-character.
In all seriousness, whatever else he may be – good or bad – he is also a 70 year-old man (the oldest man to ever be elected president) who went from looking like King of the World to deeply troubled in the space of about two days. And people have been burning effigies of him in the streets and calling for his assassination – that can't be comfortable to know either.
---
But there is something else more important I very curiously noticed about the awkward footage from the White House – and it's something I haven't seen anyone else point out.
---
Have you noticed how many secret hand signals he was making?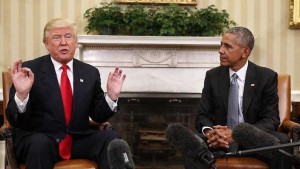 Everyone online these days is obsessed with the so-called 'Illuminati' hand signals. I don't particularly believe in the 'Illuminati' – which, as far as I know, was just a European intellectual secret society from a few centuries ago and probably wasn't anything sinister.
But I do accept that there is very likely a network of powerful secret societies, under various other names, that exists and is very much in operation.
And the secret hand signal thing among high-level political and cultural leaders does very much seem to be real just from all the photographic evidence alone. Well, Donald Trump has been throwing up these hand signals (particularly the 6 symbol, as shown above, and the pyramid symbol shown below) all throughout this presidential race and his rallies.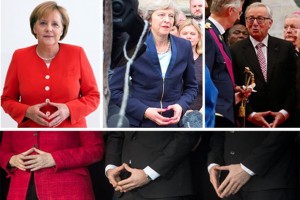 I mostly ignored it for months; but on Thursday it just seemed so much more pronounced.
Here he is, President-Elect, just won an astonishing election victory, and he's on his first trip to the White House to meet the soon-to-be-ex president, and he is well aware the cameras are on him and that this is a massive moment that the whole world is watching… and there he is, making the 6 signs and pyramid signs while Obama talks to the journalists.
As if that's not curious enough, him and Obama then seem to share what looks like a secret/masonic-style handshake – when they could've just shaken hands normally if they'd wanted to.
Admittedly the handshake is harder to make out for sure – but it doesn't change the fact that he's throwing up interesting hand signals elsewhere.
Of course, the likes of Alex Jones, Paul Joseph Watson and Info Wars, Breitbart, and all the other hate-preaching so-called 'Alt Right' media outlets – who've been doing for Trump precisely what CNN, ABC and co have been doing for Hillary – won't mention this or draw attention to it.
But it looks almost like Trump just announced his covert affiliations for everyone who knows what to look for.
He may have, in fact, been showing these hand signals specifically to alert other secret-society members in government or media that they don't need to worry about him having won the election – as he is part of the family, even if some of them didn't know that before.
And Info Wars, Breitbart and the other 'Alt Right' platforms , who've over the years spent hours pointing out every 'Leftist' or 'Liberal' politician with alleged 'Illuminati' or secret-society affiliations (according to most of these, little old Angela Merkel is the Devil, apparently), are not going to draw any attention to Trump throwing out these signals.
Which just confirms what I have already known – and been saying – for some time: that Jones, Watson, Breitbart and the rest of them (all of them surely pretty wealthy by now) are in fact a covert operation (probably run by intelligence agencies or COINTELPRO) and not actually real 'alternative media' at all.
---
All of that aside, I'm honestly still not sure what is actually going on: whether Trump was meant to win the election or whether it was supposed to be Hillary.
And also, someone being a member of a secret society doesn't automatically make them sinister: most secret societies, at their point of origin in previous centuries, were probably good organisations designed for intellectual pursuits, science and philosophy, and were forced to operate in secrecy and develop secret handshakes and the like to protect themselves from the tyranny of the church.
A secret society could presumably be up to good or up to evil – my point being that the secrecy itself isn't proof of 'evil'.
The main point I'm getting at here is that it is very suspect when 'Alt Right' platforms obsess about the so-called 'Illuminati' and secret societies and brand Hillary Clinton as 'Lucifer' or 'Satan' or a child murderer, but then completely fail to notice their own candidate throwing up 'Illuminati' hand signals left, right and centre in the White House.
And hey, everyone here knows I'm no fan of Hillary: mostly because of her horrific run as Secretary of State, in which she helped destroy several nations. But we've bashed Hillary enough for now.
And I'm not totally dismissing Trump either. Him belonging to a secret society isn't a crime and doesn't necessarily mean he's Up To No Good. But it is very, very suspect for someone who's being held up as the 'anti establishment' hero – particularly when a whole lot of the gay-hating, Mexican-hating, pussy-grabbing plebs are declaring him 'the Messiah' or as someone "sent by God" to "bring down the New World Order".
Conclusion, in essence: I'm not buying Trump as the 'anti establishment' movement or victory. Not for a moment. Something else is – and was always – going on.