I wanted to make sure I put up something – anything – to pay tribute to

Chris Cornell

, who died on Wednesday night. The coroner's initial report suggested it was suicide by hanging.
Which is a horrible, numbing end to one of the greatest singers, songwriters and lyricists who ever lived. And to one of my personal heroes for most of my life. He was 52 and had, in fact, just finished playing a sold-out show with Soundgarden, with further shows scheduled for the following days. He also had a wife and three children.
His death – and the reported manner of it – is baffling and numbing to me; particularly as the official photographer for the Detroit show, who has been filming Soundgarden shows since the late 80s, reported that Cornell had seemed happier and in a more vibrant on-stage mood than he had ever seen him.
I was recently taking a detox from the Internet somewhat and semi 'going off grid' for a little while: it was actually a message from fellow blogger, Robert Horvat, that first informed me of Cornell's death.
And it just seemed ridiculous. This isn't a drug-addled guy in his twenties who falls to the almost archetypal or even 'romantic' death of the 'young rock star'; Cornell made it all the way to his fifties, had crafted out a long, diverse and prolific career in multiple bands, collaborations and solo projects, and was as busy as ever at the time of his death.
He was also a husband and father, which also makes this feel so senseless. And, unlike his tragic contemporary and fellow 90s music legend, Scott Weiland – who died on a tour bus about a year and a half ago, in his late forties – Cornell had always seemed to me like a much more steady, solid and together sort of guy who had already navigated well passed the danger zone and achieved a steady, lasting life as a major musician and performer.
Of all those guys, Cornell and Vedder seemed like the ones who were going to keep going, keep producing, keep crafting, for decades, like previous generations' most influential musicians – Bowie, the Rolling Stones, Neil Young, for example (all of whom, in my view, are inferiors to someone like Cornell in both ability and sheer artistic power) – had done.
It shows that perceptions can be very off-the-mark and we shouldn't take anyone for granted.
Cornell was an immensely gifted and special musician, whose music has been a soundtrack to my life since I was about fourteen and constantly listening to songs like 'Mind Riot', 'Black Hole Sun', 'Burden in My Hand' and 'Rusty Cage', among many others.
I have his voice and his songs in my head usually a couple of times a day: and it's been that way since I was a kid.
He was an extraordinary lyricist and poet; and his famous four-octave-range voice was insanely powerful, sounding at times like a power that could bring down the walls of Jericho or even bring reality collapsing in on itself.
He had one of the most astounding voices in music and was, without question, one of the greatest, most important exponents of music as an art form in the last 25 years.
While he held extraordinary sonic power in his delivery when he wanted to let rip ('Jesus Christ Pose', 'Pretty Noose', for example), he – like his friend, Layne Staley, who died in 2002 in his early thirties – also had the capacity for astonishingly soulful vocals, like on 'Zero Chance' from the 1996 album or on 'Say Hello to Heaven' from Temple of the Dog.
He could've, like Staley and like Eddie Vedder in the early years, been a soul singer or a Motown singer.
The fact that he primarily set that astounding voice to an alt/hard-rock unit (and absolute masters of the craft, at that) is part of why what some of those bands were doing was genuinely the ultimate synthesis of older musical influences and properties.
It was, at its best, intense poetry, combined with compelling imagery, riding on stunning musical synthesis that drew on everything from The Doors and Hendrix to Motown to Black Sabbath and all the way to underground music of the 80s: but, always, it was also becoming its own thing with its own identity and its own unique qualities.
Particularly lazy journalists often characterise that entire scene as one dominated by bleak or depressed music and lyrics: but I never at all regarded Cornell or Soundgarden in that light.
And as much as some people like to view 'The Day I Tried to Live', for example, as a 'suicide song', I really never perceived it that way: and, like 'Blow Up the Outside World', I always perceived it as a kind of upbeat, triumphal thing – more about conquering something rather than succumbing to it.
Maybe that's part of the paradox – having lyrics that might be taken one way, but a sound and vibe that feels like it goes the other way entirely. I recall Cornell talking about this interview; about having this duality between positive and negative (or light and dark) within a song. I remember him saying, in fact, that 'Black Hole Sun' came from the idea of this duality too – with a black hole being a vacuum of nothingness or destroyer of life and the sun being the giver of life; and he was compelled by the image of the two being combined. "What I enjoy doing is making paintings with lyrics," he once explained, "creating colorful images."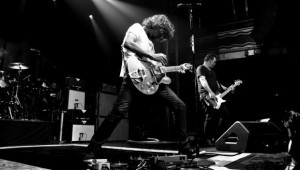 It also agitates me greatly that it feels like some spiteful Grim-Reaper-shaped assassin has made it his mission to kill off most of my musical, cultural heroes over the years (and specifically the bright lights from that particular scene and 'genre'): from Cobain onward, the list has continued growing every few years.
Chris Cornell was one person I didn't think would be on it; but it is an added, bittersweet irony that Cornell was himself so personally close to all of those people – Cobain, Shannon Hoon, Layne Staley, Scott Weiland and also the late Jeff Buckley (to whom Cornell was very close) – and was always there, as each of those outstanding musical forces and poets died, to offer tribute and reflection and to lead their canonization.
It reflects the fact, among other things, that Cornell was such a fundamental, central and founding force in that extraordinary era and music scene (what Cobain had called "the last great wave" of rock music). Soundgarden wasn't just itself one of the great acts of that time; but you couldn't tell the Pearl Jam story without reference to Chris Cornell, and you can't really even tell the story of the early days of Nirvana without also referencing Soundgarden.
Cornell was there at the center, at the heart, of it: I often thought of him, rightly or wrongly, as kind of the big brother figure.
I distinctly remember Cornell in interviews, talking about Scott Weiland when he died, and about Layne, and even about Shannon Hoon way back in 1995; and he always spoke so intelligently and soberly about the nature of those deaths and the associated problems and psychologies. In a 2014 Rolling Stone interview, he looked back at some of this, saying, "I've lost a lot of young, brilliant friends, people that I thought were very inspired. They're all young and these guys all had limitless potential in their lives in front of them…"
He might've been talking about Kurt then; or Layne or Buckley or his friend and room-mate Andrew Wood – probably all of them.
It's really dismaying to know that he has now joined them. Some would argue that, in this apotheosis, he joins the pantheon of the gods or something to that effect: but he was already there a long time ago.
None of that is what matters, of course: what matters is Cornell's own unique, inimitable gifts and powers and the massive impact that he and Soundgarden achieved as their own, singular, unique entity.
You can't imitate Soundgarden – you can't cover any Soundgarden songs, because it just won't sound like Soundgarden. And you can't even begin to imitate Cornell as a singer – because no one sounds like that; he was one of a kind and his like will never be seen again.
He was also, by all accounts, a really, genuinely nice guy too.
Cobain was right, by the way – that era of the early to mid nineties was the "last great wave" of music (Soundgarden, fittingly, also had a song on their mega 1994 album Superunknown called 'My Wave').
Twenty years later and rock n' roll isn't just dead – the entire carcass of popular music is rotting out in the open field and surrounded by shit-eating flies and dead-behind-the-eye corporate creations acting out a simulated musical dystopia.
Soundgarden's part in that last great wave was absolutely central – as was Chris Cornell's. And I already made the case last year – in a post to commemorate the twentieth anniversary of its release – that Soundgarden's 1996 Down On the Upside album might've actually been the last great rock album to have ever been released (see here). And that was twenty years ago.
It is ironic (to me anyway) that, at the time I heard about Cornell's senseless, sad passing, I was trying to edit a piece I had started writing about two years ago (but haven't yet published) specifically about the death of music. This attempt to salvage and rewrite that piece was prompted by recent comments I had noticed by several high-profile musical icons – including Flea from Red Hot Chili Peppers, and Sinead O'Connor – that "Music is dead".
Somehow, the news about Chris Cornell seemed to confirm that feeling in the most vivid, decisive way possible.
There will never be another like Cornell again, just as there won't be another Cobain or Staley. There will never be an era like that again in popular music either; we appear to have just moved too far beyond it.
I was listening just a few days ago to the song 'Right Turn', which features both Chris Cornell and Alice in Chains' Layne Staley on vocals (along with Mark Arm from Mudhoney). It's always been a really beautiful song, stripped down to bare minimum instrumentation and riding chiefly on the three-way vocals. But I've struggled to listen to that song ever since Staley died in 2002, finding it too sad to bear for that reason: and now Cornell has died too and I doubt I can listen to that song again for years.
I enjoyed a lot of Cornell's solo work too, his collaborations with Rage Against the Machine (Audioslave), and I regularly re-listen to Temple of the Dog; but it is primarily Soundgarden that is where my fandom lay. All of those albums were classics, and on each record there was always a particular song that would become an obsession for months.
On Badmotorfinger it was 'Mind Riot', a song that built and layered beautifully, with Cornell's sonorous vocal and bittersweet lyrics being the completing touch to create perfection. On Superunknown (an album I devoured obsessively in 1994) it was the mesmerising '4th of July'. On Down On the Upside, I remember listening to 'Blow Up the Outside World' over and over again, literally rewinding the tape repeatedly to go back to the beginning of the song.
On King Animal –

Soundgarde

n's more recent album, released a decade-and-a-half after Down On the Upside – it was the haunting and beautiful

'Bones of Birds'.
It is also, like all Cornell lyrics, a work of potent poetry; this one was, from what I recall him saying in an interview, about the fears and insecurities of trying to protect your children and preserve their innocence. The year that album came out (2011 or 2012, I think), it was the song that I listened to the most that year out of anything by anyone.
There was still a lot more Cornell as a solo artist and Soundgarden as a band (a new album was in the works) could've offered. What was already offered over many years was substantial, sublime and imperishible.
And we don't own these people. They don't owe us anything. What we take from them and whatever it means to us is their gift and our good fortune.
______________
I don't know what happened with Chris Cornell, don't know what the story was.
I might not really want to know. There are questions about his death, such as why the police announced it as a suicide right away and why there was no note – coupled with his wife saying he wasn't, as far as she knew, suffering from any depression. She has also subsequently said that if he did kill himself, it was by 'accident' and that he couldn't have known what he was doing.
Cornell's wife, Vicky, has been reported as suggesting he may have taken an extra dose of the prescription drug 'Ativan', the potential side effects of which are known to include "paranoid or suicidal thoughts, slurred speech and impaired judgment." A full autopsy report hasn't been completed yet.
As happens in this hyper information age we live in, footage of Cornell's and Soundgarden's final performance – literally a couple of hours before his reported time of death – was already circulating more or less as the sad news was breaking.
I want some meaningful or profound way to end this piece; but I'm not sure I can find one. I'm confused, dismayed and sad: and I was already kind of feeling those things anyway, due to some losses and deteriorations closer to home.
But I came across a comment that Chris Cornell made himself in an interview a while back, probably in relation to Layne, Weiland or one of his other deceased contemporaries. "When you start thinking about fate and a sense of God or cosmos," he said, "it just seems that positive and amazing people should be allowed to have their lives. Because so many negative things happen all the time…"
___________