Anyone who's been paying attention to international news will have noticed that there is serious unrest and chaos presently unfolding in several countries.
In South Africa, where people and mobs have recently been running riot, with mass violence and looting. In Haiti, where the president has just been assassinated and law and order in the streets has long since been lost. In Cuba, where an *apparent* popular uprising against the government is going on. There are other countries that could be on that list too, including Tunisia and Lebanon.
The causes or reasons for unrest might be different in each case: although government corruption and/or incompetence, economic hardship and even the effects of the COVID pandemic and lockdowns, all seem to be common themes.
But certainly the way the Cuba situation has been presented raises some alarms – and has obvious similarities to regime change propaganda in Venezuela, for example, or echoes of the co-opted 'Arab Spring' in Libya too.
Clearly elements in the US are, if not behind the Cuban unrest necessarily, certainly trying to steer it. The US has been involved in Cuba – and trying to bring down the Cuban regime – for generations: nothing that happens in Cuba can be looked at entirely in a vacuum or as necessarily a purely internal Cuban affair.
For one thing, at the most basic level, the economic hardships fuelling the Cuban protests are clearly as much a result of decades of US sanctions as they are of Cuban government mismanagement.
And elements of Western media are already up to tried-and-tested tricks: for example, some media were showing images of a pro-government rally in Cuba and presenting it as an anti-government rally.
A ton of corporate media, including the Financial Times, Fox News, The New York Times and The Guardian have used a pic of a PRO-govt rally in Cuba 🇨🇺 to illustrate their articles on anti-government protests, falsely claiming the huge crowds to be on the side of the US. pic.twitter.com/eKo9QJzzeP

— Alan MacLeod (@AlanRMacLeod) July 13, 2021
It's also worth saying that a lot of the images of Cuban protesters are not from inside Cuba: some of them are, obviously, a but a lot of them were or are happening in Miami, Florida, where there is a big population of Cuban exiles (and Latino Republican supporters).
US media has been filled with apparent 'calls for intervention in Cuba': some coming from protesters and some – in the case of Marco Rubio, for example – from actual political figures.
Rubio has warned of a 'bloodbath' in Cuba. He also seems to be claiming 'thousands' of Russian special forces are arriving in the Caribbean island.
Texas's joke Senator Ted Cruz has also zealously called for US intervention.
There is a longstanding perception in some quarters, by the way, that both Cruz and Rubio have exaggerated or overly embellished their personal stories of their families escaping from Castro's Cuba and making a life for themselves in the Land of the Free. But we'll sidestep that for now.
Meanwhile, 'Miami exile leaders' have apparently called on the US to send troops to Cuba: for humanitarian purposes, of course. Note that some Haitian officials, in the wake of the recent assassination of Haiti's president (explored here), were also openly calling for US military intervention in *that* nearby country: although this request was refused by the Biden administration.
---
It's curious too that both the Haiti assassination (and its spiralling web of conspiracy), which took place amid massive protests against the government, and the sparking off of these mass protests in Cuba, pretty much happened at the same time in July.
---
We'll come back to that.
We'll also come back to the Miami thing, because – as we explored in the Haiti article – this is very significant.
The protests in Cuba seem to driven by general dissatisfaction with the regime: with low living standards, supply shortages and power blackouts, among other grievances. Essentially it seems to be the same scenario as the goings-on in Venezuela in recent years. Which, given US policy towards both countries, as well as the economic conditions, makes sense.
Some claims in US and Western media seem to suggest a lack of COVID vaccines is also fuelling the protests: but this might not be true, as Cuba reportedly developed its own vaccines (which were not experimental mRNA vaccines). As ever with information warfare, it's hard to know precisely what's true and what isn't.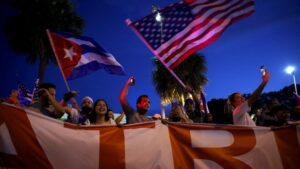 ---
Meanwhile, 'SOS CUBA' has been trending as a meme and a hashtag: and conveniently timed memes and hashtags are always a red flag, as is ready-made merchandising. You can buy your SOS CUBA merchandise here, by the way, or here on Amazon.
---
Let's remember, by the way, that Barack Obama had tried to develop a softening of US-Cuba relations – much to the outrage of Republicans. Obama's historic movement towards rapprochement and a lessening of sanctions was reversed completely of course by the Trump administration. And so far, strangely, the Biden administration appears to be continuing the Trump era policy rather than moving back towards the Obama era policy.
And this being in spite of a number of countries, especially in Latin America, calling for an end to the US embargoes on Cuba: a United Nations resolution last month also called for an end to the sanctions (for the twenty-ninth time), but was ignored by the US.
So while Obama was clearly trying to move forward, the Biden administration appears to be stranded in Trump territory in regard to Cuba. There's a whole section of American media and politics that also appears stranded in the 1960s: but I guess that's Conservatism in a nutshell. Bay of Pigs, anyone? Even Kennedy all the way back then knew it wasn't a good idea.
So is Biden being pressured into a hard-line position regarding Cuba? Or does he actually agree more with Trump than with Obama? This actually would make some sense, despite surface logic: Biden is a far more Conservative school of Democrat than Obama was. Obama, by comparison, was a progressive: in fact, it's generally thought that Obama brought Biden into his camp specifically to make his administration more palatable to conservatives who might've worried about some of Obama's less-than-conservative ideas.
The math seems simple: surely ending the sanctions on Cuba will solve most of the island's economic problems, thus diminishing the cause of any protests and unrest? At the very least, ending the sanctions would mean we could get a truer reading of the situation: in other words, if post-sanctions protests continue then we can at least be more clear that government repression or corruption is the main problem – and not externally-generated hardships.
But, arguably, part of the point of the embargoes all along was to diminish quality-of-life for the population, causing eventual resentment of the government.
And if that's what's happening right now – assuming that US meddling isn't directly behind the protests themselves – then there's no way the US would back off at this point, after decades of trying to get things to this stage.
The sanctions policy is a tried-and-tested strategy too: it was done in Iraq and in Libya.
In Libya's case, it diminished the Gaddafi era's economic progress and created dissatisfaction in pockets of the population; and in Iraq's case, the sanctions are thought to have led to some over a million deaths, including a staggering number of child deaths.
In both those cases, the countries were then later military attacked by the US and its allies – and were so weakened by the years of sanctions that they could barely put up a fight.
While I doubt direct military intervention will happen in Cuba, the sanctions model itself has proven effective.
This strategy also has the desired effect of casting doubt on certain socio-political ideologies or models of government. For example, Cuban Communism – whether you're pro or anti it – can be said to have been a failure, on account of the economic problems and the present public dissatisfaction. However, we can never know what Cuban Communism would've worked out like *without* the decades of sanctions. The same is true of Gaddafi's brand of Arab Socialism in Libya – a monumental economic success story in its first couple of decades, the imposition of international sanctions created conditions in which we now can't say whether that success story would've continued or whether it would've diminished.
It's worth noting, for example, that – even during and after the sanctions – Libya remained the most economically successful country in Africa: and was ranked No.1 on the UN's International Development Index (just prior to the French/American/British-led NATO war on the country: and all of which was covered in 'The Libya Conspiracy').
So imagine Libya *without* the sanctions.
And imagine Cuba without the decades of embargoes.
And none of this is meant necessarily as a defense of the Cuban state or government. If they've been violently repressing or attacking protesters or journalists (as is widely claimed), then obviously that's not defensible. However, let's remember that the same accusations were circulated about Gaddafi's government in Libya in 2011: and it has never been entirely clear how true those accusations were or to what extent.
The Cuban government, needless to say, is arguing that the US is behind the protests – essentially calling it a Color Revolution aimed at regime change.
A government on the back-foot would say that, of course, whether it was true or not. But then of course the US has form in this department. It's also worth noting the number of instances in which the US has backed oppressive regimes – especially in Latin America – that were violently oppressing their own people: and even directly assisted such regimes in their repression tactics. This includes Haiti, Chile, Honduras, and several others.
So if the Cuban government violently suppressing protesters is the ideological basis for a US intervention, it's not a good one.
Which, again, is not a defense of the Cuban state necessarily: which, I don't doubt, probably has been suppressing protesters and activists violently. But this is isn't an either/or dynamic: both things can be (and probably are) true – the Cuban government could be oppressing protesters violently and the US could, at the same time, be involved in a destabilisation programme.
Claims that the US is directly involved with the protesters and activists in Cuba could also be true: though it's just as likely that these are genuinely just Cubans fed up with their government and with the vastly diminishing quality of life at present.
Again, I doubt military intervention in Cuba is on the cards: but there are certainly groups pushing for regime change right now.
For example, as NBCMiami.com tells us, 'At another gathering in Miami… the leader of the Assembly of the Cuban Resistance also asked for the U.S. to act… "They're still demanding freedom. They're still in the streets. We need decisive force on behalf of the Cuban people," Dr. Orlando Gutierrez-Boronat said…'
The Miami Mayor has also apparently called for US intervention.
As we covered in the article on Haiti, Miami is generally the staging point of destabilisation operations in the Caribbean or Latin America: it's where all the Cuban exiles and ex-pats live (as well as Venezuelans and Haitians, for example). These are generally Republican supporting anti-Socialists and anti-Communists.
As we explored in regard to the unrest in Haiti, Miami is where plots are hatched. Key elements of the Haitian assassination plot last month were traced to Miami. And, in general, anti Cuban operations are often traced to Miami.
So while it's obvious why all these 'SOS Cuba' protests are happening in Miami specifically – because there are so many Cubans there – there is also a possibility that more hostile or overt moves could be formulated in Miami as well, just as seemed to have recently happened in Haiti.
As I said earlier, it's also interesting that the Cuban protests and the Haiti assassination and fall-out happened at the same time: both Caribbean nations, both of which have long been subject to US interference and both of which were key elements in the Cold War era.
The fact, as explored in the Haiti piece, that the CIA Director was in Colombia for an undisclosed reason, that Colombian mercenaries have been a big part of the equation, that there were links to Miami in regard to the Haitian assassination and that Miami happens to be where the US military's regional counter-insurgency specialists are located (Fort Lauderdale and the Southern Command)… well, it's all reason to be watchful.
Any plots coming out of Miami or Florida and targeting the Cuban state wouldn't even necessarily have explicit US government sanction: as discussed in the piece on the Haiti conspiracy, the CIA could act independently (which,  again, would echo back to Bay of Pigs and the botched anti-Castro op that eventually led to the Kennedy assassination), or at the very least there could be rogue actors, private contractors and shady networks taking things into their own hands.
There was, for example, the botched coup attempt in Venezuela in May 2020, which was linked to private contractors in Miami/Florida. The operation, aimed at overthrowing the Venezuelan government, 'involved two fiberglass motorboats owned by Silvercorp which launched from eastern Colombia toward the Caribbean coast of Venezuela north of Caracas. The boats were carrying approximately 60 Venezuelan dissidents and two American former Green Berets employed as mercenaries by Silvercorp. Eight Venezuelan dissidents were killed and seventeen invaders were captured, including the two American security contractors, whose interrogations were broadcast on state television in the hours following the event.'
As explored previously, the way this event in Venezuela was generally presented is as a sort of rogue operation: the CIA denies involvement, as does the US government – and, in fairness, that might explain why it was such a botched operation. It's entirely possible that rogue actors carried out the plot without official approval: or it's also possible that the US government simply looked the other way and the CIA engaged in plausible deniability.
Given the prevalence of anti-Communist Cubans in Florida, special ops assets in the area, and the apparent availability of Colombian mercenaries and the like – and given what just happened in nearby Haiti, as well as the botched Venezuelan plot from last year –  one imagines that the Cuban government must be watching closely.
---
More: 'Venezuela: Starving a Nation into Submission?', 'Fidel Castro's Letter to Roosevelt', 'The Life & Death of Gaddafi's Libya', 'From Rousseff to Bolsonaro: A Demonstration of How the Old Elites Win', 'Migrant Caravans, Bloody Coups & Co-Opted Conspiracies'…
---