With

Courtney Love

currently rocking out venues in the UK this week and with the double A-side single Wedding Day/You Know My Name doing the rounds, thoughts naturally turn somewhat towards Courtney Love as a solo artist.
This being as opposed to fronting Hole: particularly with this being the approximate tenth anniversary of her sole solo album to date, 2004's America's Sweetheart.

Hole's Live Through This (1994), which had its twentieth anniversary this year, is something I paid extensive tribute to, that being an album that has meant such a great deal to me; it never occurred to me to do the same for America's Sweetheart, which reflects the fact really that I've never known quite how to feel about that album, Courtney's first as a solo artist.
I listened to that album a few times when it came out and then put it away and never went back to it, being at the time disappointed in it.
I didn't hate it; it just didn't evoke anything, good or bad – which, in effect, made it 'bad' in as much as it didn't live up to that sense of having heard something special, which was what I had gotten from the three Hole albums (four, if you include the My Body The Hand Grenade compilation, which was awesome).
Some of it was good. Some of it was just flat, making no impression. Some of it was actually annoying, being just too much in the sugary pop-punk mode for Courtney's previous levels of songwriting sophistication.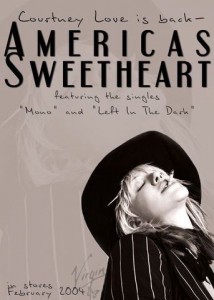 Having now gone back and listened to it again ten years after its initial release, I'm still not sure about it; but it definitely isn't a bad record by any measure.
'Mono' and 'But Julian, I'm a Little Older' are terrific, energetic pop-punk without darkness. 'All the Drugs' is a riff-driven piece of edgy rock n' roll. The standouts for me, 'Almost Golden' and 'Uncool' are much more sophisticated and considered pieces of songwriting, which is what I sort of wished the whole record had been more like. Meanwhile 'Hello' and 'Zeppelin Song', two of the tracks I found annoying at the time and somewhat 'beneath' Courtney's true songwriting level, actually get better with time, much more listenable now than I found them a decade ago.
And 'Never Gonna Be The Same' rounds off the album nicely, Courtney's raspy, cigarette-stained vocals giving the song an additional poignancy.
In fact, even the tracks that aren't great are still probably better than tracks on a lot of other artists' albums that haven't been badly received or ill-reviewed. I think maybe Courtney's musical output gets subject to more scrutiny, or held to a higher level of standard, than a lot other artists with less baggage and less gravitas.
But then Courtney is known to hold herself to those standards too, and was herself honest about the perceived failings of America's Sweetheart.
My sense of America's Sweetheart was that she didn't quite hold herself to that standard at that point in time. She is known to have said herself that she wasn't happy with it. With all the personal and professional controversies and extraneous issues effecting the recording of that album, the end result was probably adversely effected.
Some of the extraneous stuff probably also affected my perception of it as a fan too; at that particular point in time I remember having somewhat fallen out of love with Courtney largely due to her celebrity antics and public persona (all of which I found increasingly unendearing as the years went on), so that by the time I came to the album, and was immediately put off by the cover art, my interest level was lower than it should've been.
And by the time I listened to the tracks and was largely unmoved, I was already beginning to have the opinion that the magic was simply gone by now. With hindsight, I think a lot of what was wrong with America's Sweetheart was simply an issue of the time and of the distraction of Courtney The Celebrity Persona, much of which was bound up thematically and even visually in the album itself.
I mean in spirit something like America's Sweetheart felt like it couldn't be any further removed from the raw punk spirit of Pretty On The Inside or any more divorced from what Hole had come from.
---
I was disappointed in it and somewhat disillusioned with Courtney in general at that point in time and all those elements were inter-related.
---
But a decade later I've almost gone full circle and come back to a point where I can view America's Sweetheart and Courtney herself for that matter without the extraneous baggage. That album had some very substandard or just average material on it – 'I'd Do Anything', for example, or 'Sunset Strip' – that would've been fine for a lot of other bands or artists (The Distillers, say), but not for Courtney Love.
And there I'm being a little unfair, as I said – holding her to a standard that I wouldn't hold, say, Brody Dalle or any number of other artists. But that's only because I have so much respect for her past work, only because I know how brilliant a songwriter she can be, and only because she raised the bar so fucking high with Live Through This.
That's a particular curse of artists who aren't just musicians but cultural icons and also of artists who manage to produce so good and so revered a work at some point or another – they are destined to toil in the shadow of that work thereafter. With a lot of other bands or musicians the bar isn't so high and if anything they can try to subvert low expectations with work above their usual standard.
Courtney, however, is always going to be measured against Hole's first two albums.
Which is a difficult, if not impossible, standard to live up to, at least partly because those albums were very much a product of a specific time and climate.
If Kurt Cobain were still making music in 2014, it's highly unlikely it would be groundbreaking or that it would be equaling the power of his earlier work. And actually most of the bands or artists that made an impact or were an important part of my life in the past are invariably not putting out as powerful a level of work today as they were then (I'll cite Chris Cornell and Soundgarden as the exception); that's simply a natural process of time. In that respect, the inconsistent quality level of something like America's Sweetheart is no different to most, say, Pearl Jam albums post-Binaural or most Radiohead albums, which tend to have a handful of good or exciting songs per dozen and aren't primed to blow us away anymore, but rather just to expand and evolve the body of work.
I liked Nobody's Daughter (2010), a 'Hole' album by name though it didn't feel like one and in fact felt more like another solo record.
And like America's Sweetheart it was a mixed bag, with some really wonderful material sitting beside some fairly bland fare. It seems like Courtney's and Hole's best songs are when she collaborates more openly with other musicians, whether that's Patti Schemel, Eric Erlandson, or Billy Corgan; the better songs on Nobody's Daughter, it has to be said, were co-written with Billy Corgan.
There's nothing negative in that as an observation; some of the greatest musicians or frontpeople in music history were not sole-songwriters in their best work. I've been a massive Pearl Jam fan forever, but I haven't overly connected with Eddie Vedder's solo work so much. And as a fan I would rather see Courtney reform and front Hole, if that's possible, than go the solo route.
A Hole reformation may in fact be on the cards, with rumours along those lines cropping up earlier this year. The lack of Courtney solo material appearing on the set-lists for these current UK shows may give further credibility to those rumours.
Further, the wholesale absence of America's Sweetheart material from the set-lists I've seen so far may even suggest Courtney's own disregard of those songs or for that point in time.
Whatever the case proves to be with that, America's Sweetheart will never be something I love in the way I love some of her other work, and will never be a high point in Courtney Love's career; but it isn't as bad as I initially felt it was and has definitely gotten better with age. Again, a song like 'Uncool' showcases Courtney's brilliance as a songwriter.
And also the lyrics through most of America's Sweetheart are really good, classic Courtney, even on songs that aren't musically that great. And as I've said, I think I was harder on Courtney in my mind than I would've been on most other artists simply because my expectations of her were so high.
I still don't love America's Sweetheart. But, with time and fresh ears, it isn't as bad as I originally thought it was.