Just to clear, again: I didn't suggest that what happened in Westminster wasn't a 'terrorist' attack involving a real psycho jihadi.
Some people *are* calling it a hoax involving fake footage and crisis actors, but I specifically said in that first post that this probably was or could've been a genuine 'IS-inspired' psycho attack.
But there appears to be a lot of misunderstanding about what the term 'false-flag attack' means. Again, it doesn't mean there wasn't an attack or that real 'jihadis' weren't involved: rather, it refers to state-enabled or state-sponsored operations involving patsies or assets.
Now that we have an identity for the attacker, the named suspect does bear some of the common hallmarks of an asset or patsy involved with intelligence operations. One of these hallmarks is the number of aliases and names attributed to him, which makes it difficult to ascertain his 'genuine' identity. Aside from Khalid Masood, he is reported to have gone by the names Adrian Russell, Adrian Russell Ajao, Khalid Choudry and Adrian Elms.
And he has lived all over the place, including Luton, Forest Gate, Birmingham, Sussex, and Tunbridge Wells. Although he is reported to have a criminal record going back to the 80s, including knife crime, he also appears to have been raised in East Sussex in a $300,000 house (hardly the jihadi ghetto).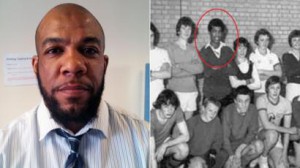 And we're told, of course, that he was on the radar of MI5 – though not specifically for anything terrorism-related.
We are also told that he acted alone; though, as Scott Creighton points out on the Wily Loman blog, this raises the question of why people associated with him are being arrested. He says, 'They say he acted alone with no direct connection to either "ISIS" or al CIAduh but in spite of that there have already been 10 arrests made in connection with this event after a string of raids all across Birmingham. If he acted alone, why are they arresting people they associate with him?'
He also raises the question of why there is only very sketchy photographic record being provided of Khalid Masood, when there should be plenty to go on, according to the official story.
There is also still the curious question of why Channel 4 and others pointed to the extremist preacher/caricature Abu Izzadeen (Trevor Brooks) as the perpetrator of the Westminster attack.
The suspect shown being treated on the stretcher looks a lot like Abu Izzadeen. This could be just coincidence – but it does raise the question of why Izzadeen was initially being reported as the perpetrator.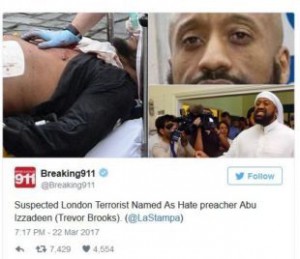 I also want to point people to an extremely interesting observation also made on the Wily Loman blog, highlighting something that I had been completely unaware of (also a hat-tip to Wall of Controversy for pointing me to it): specifically, that a number of prisoners related to terrorism offenses appear to have been released from jail in September (coincidentally, around the same time the decision was made to switch off the CCTV for Westminster).
I'll quote here from the 23/3 posting. 'Almost immediately after the attack, an online news service ran a story about how 70+ prisoners were released in Sept. of last year. They did not mention Trevor Brooks but they did say specifically that they released people convicted of terrorism related offenses who had been sentenced to terms of 4 years or less. Trevor of course had been sentenced to two… The article that I just referenced about them releasing 72 or so prisoners that was clearly posted yesterday because I wrote about it and linked to it yesterday, today has a stamp on it that says it was written today, the 23rd of March…'
He continues, 'When I re-read that article, it seems they added something that I don't remember being in it the first time: "Offenders given sentences of around four years will have been found guilty of offences like hate preaching and inciting people to support brutal regimes such as ISIS and Al-Qaeda"… The Express article is the only one I can find that mentions this purge of terrorists back in Sept. so I am very suspicious of it's validity. Also the fact that it appeared just as there were issues with "Abu's" incarceration leads one to wonder about the convenient timing of it all.'
Here's the Express article.
I'm not sure I can come to any confident conclusion concerning this very strange muddle. But I find it very odd that the person (Abu Izzadeen/Trevor Brooks) that Channel 4 'mistakenly' blamed for the attack just happens to resemble the person pictured on the stretcher – despite the fact that the official perpetrator is now someone else entirely.
I also tend to wonder if, alternatively, the individual on the stretcher was *made to look like* Abu Izzadeen on purpose, according to an original plan: but then the official story was changed for some reason, leaving us with this very odd narrative.
Either way, something doesn't really add up here. Again, before anyone gets angry: I'm only asking questions, not making statements.
__________