A statue of the late Soundgarden/Audioslave frontman and rock music legend,

Chris Cornell

, was recently unveiled in Seattle.
I haven't been able to figure out how I feel about this monument, or what it's meant to represent, or for who's sake it has been erected.
My instinctive reaction to the images of it are that it seems like a tacky thing to do: and also seems like something Chris Cornell himself would not have wanted.
While my sense of it isn't as pronounced as it was with the tacky-as-fuck Kurt Cobain statue in Aberdeen, Washington, I still tend to think Cornell would never have wanted a statue of himself erected. I was so sickened by the Cobain statue that I wrote a scathing article about it ages ago, pointing how much the statue (or even the idea of a statue) was at odds with Cobain's sensibilities and personality: not to mention the fact that the statue itself (pictured below, complete with tear falling from eye) was just a monstrosity conceived in the poorest taste.
Cornell's statue isn't as bad as that.
Unlike Cobain's statue in Aberdeen, Cornell clearly had an affinity with Seattle and the Seattle scene – whereas Cobain loathed and resented his childhood hometown of Aberdeen.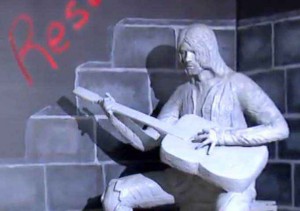 But there's still something about it that makes me uncomfortable.
I absolutely adore both Kurt Cobain and Chris Cornell: they're probably my two biggest heroes and have been for most of my life. But they were both down-to-earth types of people: musicians and artists more than 'rock stars', and neither of them interested in 'celebrity' or in self-aggrandizement.
Both Cobain's and Cornell's legacies are in their music and their art – those are their 'monuments', which are imperishable and long-lasting.
The idea of statues seems to take them – probably against their wills – into the kind of tacky idolisation realm of larger-than-life parodies-of-themselves like Elvis Presley or Michael Jackson. I just don't see Cornell approvinng of that.
There's also something that feels incongruous about erecting statues to people who – at least according to the official stories – took their own lives. I'm not sure I can adequately explain why I think that feels incongruous: but it's kind of along the same lines of what always made me horrified about reproductions of Kurt Cobain's suicide note appearing on t-shirts.
I don't know. The statue obviously makes someone happy – otherwise it wouldn't exist. And if Cornell's family and friends are happy with it, then who am I to question its existence?
The matter might be further aggravated by the fact that I've for some months started to change my mind about whether Chris Cornell took his own life or not. I don't know what I think anymore – I am certain of nothing. My initial view – that he did kill himself, perhaps in the midst of an imbalance caused by his medication – is still probably my overriding opinion: but where it used to be about 90/10 in my mind that he took his own life, I'm now hovering closer to something like 60/40 – due to the fact that I started opening myself up more to the proponents of the conspiracy-theory view of what happened that night at the Fox Theater in Detroit.
I had consciously avoided most of that for about a year after Cornell's death: because I was so emotionally effected by Cornell's death (and particularly the manner of it) that I didn't want to deal with any of that stuff or any of those questions.
It's only in the last six months or so that I've opened myself up to all the people who think Cornell was murdered: and I have to say that there is definitely a case to be made, even if I'm not 100% convinced yet.
It's something I'm going to look at more in the next few months – until I've reached some kind of conclusion to my satisfaction (although 'satisfaction' is admittedly the wrong word – there's never going to be anything satisfying in any of this).
But those concerns/uncertainties probably play somewhat into why I find the Cornell statue in Seattle a little uncomfortable.
---
Read more: 'Chris Cornell – An Ode to His Gifts & Our Good Fortune', 'Did SOUNDGARDEN Make the Last Great Rock Album…?', 'Scott Weiland: A Dismayed Farewell to a Rock God', 'Nevermind the Bollocks – This is the Real Legacy of Kurt Cobain', 'Layne Staley – Still in Mourning'…
---