The 'Omicron Variant', despite sounding like a sci-fi novel title, popped onto the radar seemingly at the perfect time.
And the major news media has seemingly been delighted to have a new twist in the narrative to get excited about.
The thing that might be considered curious about the timing of this Omicron Variant is that it has cropped up just as various governments were pushing for the booster shots or third jab.
For example, as discussed here previously, Boris Johnson in the UK had been advocating for boosters, admitting that the existing double-vaccination doesn't offer adequate protection. A similar push was happening in multiple countries.
Israel has led the way with the booster shots: just as it led the way with the initial vaccination programmes. And for the passed month and a half or so, booster talk has been picking up momentum.
But in recent weeks controversial data has been debated, suggesting that the present spread of the virus is predominately among the double vaccinated and not the unvaccinated: and also, crucially, that double vaccination has not provided protection from COVID or proven effective in preventing transmission of the virus.
Quite likely, some degree of reevaluation or hesitancy among the double-vaccinated was starting to – or was going to – kick in: with a lot of people potentially questioning whether it was worth getting a third shot if the initial two shots weren't necessarily as effective as originally suggested.
Look, this Omicron Variant is presumably real… I'm just saying, the timing is a bit curious. It seems like it's arrived at the perfect moment – to drive uptake of the booster shots.
And that, as soon as the media had this new variant to talk about, a conscious decision to evoke public panic was made.
As the BBC reports, 'Health officials have renewed their call for everyone eligible to come forward for a Covid booster jab… The Omicron variant is spreading so quickly everyone is likely to come into contact with an infected person in the next few weeks, a scientist said.'
The report continues, 'Prof Eleanor Riley, professor of immunology and infectious disease at the University of Edinburgh, told BBC Radio 4's Today programme Omicron appeared to be so infectious that "you have to work on the basis that anyone you come into contact with has it"…'
The Daily Mail, meanwhile, is predictably even more excited, telling its readers: 'Vast majority of Britons have NO PROTECTION against Omicron: After 100 days two AstraZeneca doses offer virtually zero defence while two Pfizer jabs provide just 37% protection against new variant – but boosters cut risk of illness by 75%'...'
They also cite the Health Security Agency as having warned 'that public failing to get boosters could overwhelm health service'.
---
It does seem like Omicron is being used to intimidate people towards those third shots: a manufactured panic based on dubious evidence.
---
Large sections of the British media are predictably ramping up the hysteria. And the PM, Boris Johnson, just called on all adults to urgently get their boosters: both the PM and the government website have presented this as some kind of urgent national security matter whereby every eligible citizen must get their booster ASAP.
To 'Protect the NHS' and to 'protect our freedoms'. 'Protect our freedoms' always seems like a perverse hashtag for a government that employs a Disney-villain Home Secretary who is presently trying to outlaw peaceful protest and freedom of expression.
In response, news media ran footage all day today of long queues outside vaccination centers and clinics, as people scrambled to get their third shot. The NHS website was reportedly so overwhelmed by people trying to book their booster shots that it crashed.
One person told Sky News the queue outside St Thomas' Hospital was six hours long. Across the country, reports were of people standing in queues for four or five hours, desperate to be jabbed.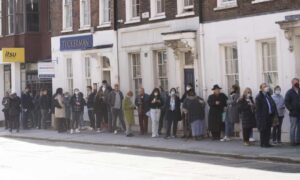 Whether the panic over Omicron is justified or not, people are certainly responding.
---
A 'major wave', caused by Omicron, is reportedly expected in January. This is what's being projected in a matter-of-fact manner: so it's probably what's going to happen.
---
Aside from serving to drive the general population into those vaccination centers once again, Omicron might also potentially be used to push towards mandatory vaccination in multiple countries, depending on how this thing plays out over Christmas and New Year: as Austria is already implementing, and as Germany and some other countries are debating.
The Delta Variant, it could be argued, emerged right at the time that governments were really trying to get the initial vaccination programmes rolling: and to convince enough people that they were in real, urgent danger if they didn't get the jab(s).
So, again, it comes back to the recurring question: how many more variants are coming – and how many more boosters are going to be required?
It should be borne in mind too that health officials in South Africa – where the Omicron Variant apparently came from – have said that the variant has been over-hyped in international media. The South African doctor who initially raised the alarm about the new variant said that dozens of her patients had only shown mild symptoms and had experienced a full recovery (without the need for hospitalisation).
And also, crucially, most of these patients were unvaccinated: so, in theory, they should've had no protection at all, but were in fact able to deal with contracting this variant relatively easily.
Her implication is that some international media is in fact overreacting and blowing the threat out of proportion. The danger seems to be the threat of this variant spreading rapidly and proving resistant to existing vaccines: but not that the variant itself is more dangerous or causes more severe symptoms.
In fact, there's even an argument to be considered that, if Omicron becomes the dominant strain, it could be a good thing: if a variant that is less severe and has a negligible mortality rate replaces the previous (and apparently more deadly) variants, wouldn't that represent an evolution in the right direction?
---
Could this not even be the path to so-called 'herd immunity' in the long run? Could Omicron even be a blessing in disguise?
---
The apparent mildness of the Omicron Variant isn't to do with South Africans being vaccinated: because only something like 1 in 4 South Africans are vaccinated: and, as already mentioned, many of those infected with Omicron were unvaccinated but had only mild symptoms.
So the claim that the existing vaccines aren't equipped to deal with Omicron, but that a booster shot provides 75% protection against it… seems questionable. Especially when this new variant has apparently only been around for a couple of weeks: it seems too early to be making definitive proclamations about effectiveness.
The UKHSA has said 10 people have been hospitalised with Omicron (as of Monday): all of whom were double vaccinated.
The argument for the boosters would be that the effectiveness of the existing two shots – as already established – is only temporary, tending to diminish after a few months: so a booster simply renews the protection.
However, if the existing vaccines aren't offering sufficient protection against new strains – specifically Omicron right now – then I'm not sure why a third shot of the same vaccine would prove effective for anything more than a few months.
And a bigger concern would be whether repeated vaccination – especially against a variant that is milder and less deadly than the original strains – would actually have the counter-productive effect of sabotaging our natural immunity development.
In other words, if Omicron is potentially a path out of the pandemic, then these booster shots and vaccines could end up undermining a potential escape route from the cycle of variants, infections and pandemics.
---
The other way this could be spun, for example in the UK, is for the government to threaten again to 'cancel Christmas' and impose festive lockdown – blaming both the Omicron Variant and, more importantly, the insufficient uptake of booster shots.
This is what happened last year, of course – and Boris's government didn't make the call until very, very late. So the fact that government ministers are saying there are no plans to lockdown for Christmas doesn't mean anything: the two weeks or so between now and Christmas is more than enough time for the narrative to change completely.
And now we learn of the leaked document from the UK Health Security Agency calling for 'Plan C' to be implemented in the UK by December 18th. 'Plan C', I can't help but suspect, might amount to lockdown.
The government had actually been insisting there was no 'Plan C', only Plan B: but Plan C is being pushed as the best way to combat the Omicron Variant.
And with multiple countries in Europe experiencing an infection resurgence, it's entirely likely that Christmas lockdowns are coming in various countries: and that this will be either preceded by – or followed by – calls for everyone to get the booster jabs.
If Christmas is subject to lockdown, it won't be because it's what Boris or the government wants: as with last Christmas, it will be something pushed on the PM at the last minute by SAGE or other health experts. And especially now, with all the fuss over Boris having held a Christmas party last year while the rest of the population was in isolation and lockdown, the government definitely *doesn't* want to be seen to 'cancel Christmas' yet again.
But it is looking suspiciously similar to this time last year: with the government insisting that festive activity will be normal for everyone, while health agencies are warning of the spiralling dangers: and December 18th apparently being cited a key point at which a decision has to be made.
Christmas aside, it still seems like this new variant emerged at exactly the time it was needed.
That alone is reason to be suspicious. And the fact that South African health officials are insisting that the UK is overreacting is another.