To say that Britain had been propelled into a kind of mania in the days following the death of

Her Majesty the Queen

would be a bit of an understatement.
For ten days after the news broke of the passing of Elizabeth II, almost no other news or subject existed. Blanket coverage of the drawn-out rituals and observances, and of entranced or emotional masses of public mourners and pilgrims, dominated all media.
None of which was really surprising. It is more or less what you'd expect from so monumental an event – in terms of British culture and history – as the death of the Queen: particularly a monarch who has reigned for as long as Elizabeth II did and was thus so ever-present a part of our collective landscape and of Britain's national identity or iconography.
I haven't written this article to object to any of it: people being sad or wanting to pay their respects, for various reasons, is all fine and good. And all of the elaborate rituals and funerary observances were entirely what you would expect from the royal establishment in this scenario.
And, as this Pathé footage of the 1936 funeral of George V (the Queen's grandfather) shows, the broad strokes of the programme are largely the same, even if various elements have been updated. There is therefore an obvious sense of continuity of national identity and/or national mythology that is served by the rituals and processions, aside from of course being a surface-level act of homage or mourning.
All of it seemed to also have unfolded in a positive communal spirit: and anything that serves to bring people in this country together for once (instead of driving them apart) is difficult to take issue with.
I mean, actually I did object to some things: such as the protester being man-handled and arrested by police for shouting out criticism of Prince Andrew, for example. But the fact that both free speech and protest seem to be under significant threat in this country under this government is a subject for a later article.
And, in truth, there are a number of subjects we could've brought up here in response to the outpouring of royal mania: such as revisiting some of the many curious details (to say the least) of Princess Diana's death, asking questions about Prince Andrew's relationship with Ghislaine Maxwell and Jeffrey Epstein, or about the royal family's (and particularly Charles's) relationship with Jimmy Saville, or asking questions about money laundering and corruption on the Crown-controlled tax-haven island of Jersey (as well as longstanding evidence of child abuse on the same island).
But, you know, I've covered most of those things before: and now probably isn't the time.
I might return to some of those things soon: but I respectfully waited for the official period of national mourning for the Queen to pass before publishing even this article.
I generally don't like to speak disrespectfully of the recently departed: and, in truth, I never really had any substantial issues against the person of Queen Elizabeth II anyway. As hereditary monarchs go, Elizabeth II was almost a best-case scenario.
To be clear, I am neither a monarchist nor particularly as anti-monarchy as I might've been when I was younger. As with a number of supposedly 'hot button issues' in modern life that other people consider to be divisive or all-consuming, I just don't care enough to have any passionate opinion one way or the other.
I was essentially the same with the Leave/Remain debate in 2016. Although I've always admired how the right-wing media used the Queen's name/image to manipulate the Referendum debate: see newspaper image below. I do so admire top-quality Machiavellianism like that.
But getting back to the point, the Royal Family or the Monarchy is what it is: it's there. It's a part of the historical fabric of this country (or 'kingdom', to be more accurate). Maybe I'm a little softened by my enthusiasm for history (objectively and as a subject).
But if enough of the population is passionately royalist – and this certainly appears to be the case, if the last few weeks is anything to go by – then the argument can certainly be made that the monarchy has a legitimate place in modern life.
And not by 'divine right', but by apparent public consent.
In other words, the degree and sheer scale of apparent public mourning for the Queen, public support for royal spectacle and general public fascination with the royal family, *strongly* suggests that the British people have been expressing their overwhelming *consent* to the monarchy: that the British population has, in the last two weeks, passionately endorsed and embraced monarchy.
---
In effect, that means embracing both the royal establishment and the broader elite system that the royal family is embedded in. The message seems to be clear – Britain is a monarchy and we are, broadly speaking, happy with that. Or am I missing something?
---
As I noted in the short video I put up a few days ago, I say that without making any value judgement: it is simply drawing objective conclusions from what we have observed in the past fortnight.
If there's a counter-argument, it would be tempting to argue that a lot of this was media and state sleight-of-hand: that we were being presented a skewed perspective in order to suit an Establishment agenda. Certainly the media overwhelmingly positioned itself as pro-monarchist in the last couple of weeks: and presented an entirely uniform portrayal of the subject, with no room for dissent or questioning.
The media has, in essence, been walking entirely in lock-step with Establishment needs.
Which makes sense, of course, as we know that the event of the Queen's death has been rehearsed over and over again, right down to the smallest detail: and this pre-scripted, pre-planned programme would certainly include what the media coverage would be like and what the media would say and not say.
So, in essence, nothing about the Queen's death – and the response to it – hasn't been pre-planned: at least as far as the state and media apparatus goes.
But, even so, it's difficult to make the case that the media manufactured the public reaction to the Queen's passing: the media didn't force all of those people in to those long, long queues (some suggesting up to 30 hours queuing time) to catch a glimpse of the Queen's coffin in the Palace of Westminster. All of that was apparently genuine public feeling and genuine public desire to either witness history or pay homage.
And sure, some of it was probably people jumping on the bandwagon rather than being passionate royalists, and some of it might be just a general love of spectacle and pageantry: but, either way, it's still an endorsement of monarchy – and the public part of it wasn't manufactured, but appeared mostly sincere.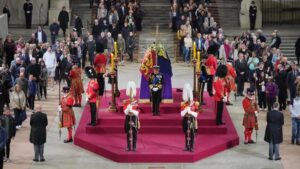 Which, it has to be said, would be perhaps Elizabeth II's biggest accomplishment or legacy.
She has managed, two decades into the twenty-first century, to leave public sympathy for the monarchy in a far stronger position than it was before. Considering all the controversies of even recent years (never mind scandals of the past) – the death of Princess Diana and everything that preceded it, Prince Andrew's dalliances with Epstein and Ghislaine Maxwell, Prince Harry's falling out with the family, etc – this is a pretty hefty accomplishment.
The enormous amount of fondness everyone apparently has for Elizabeth II also does an enormous favour for her son, Charles, as he transitions to Head of State: making that transition from Prince of Wales to King Charles III much smoother than it would've been had she not been so popular (or, at least, so mourned in her passing).
Had she passed away twenty years ago, for example, when it took her five whole days to even make a public statement on the death of Diana (and even then only because Tony Blair begged her to), this might be a very different story. Public feeling (or mass hysteria – whichever you prefer) back then was very much on the side of the dead Diana: if the Queen had passed away during those years, it's fair to say Charles would've had a much harder time becoming King.
---
And it is questionable whether the monarchy could've survived: it certainly wouldn't have won in the court of public opinion.
---
Fast-forward two decades, however, and the Royal Establishment seems to have entirely conquered said court of public opinion: with the general public consensus seeming favourable towards it.
Evidently, a great deal of damage control and image rehabilitation has been done since then – even in spite of subsequent controversies that should've seen a significant dent in the monarchy's popularity.
Most of the country – at least as far as I can tell – appears to be on the royal family's side, for example, against the apparent pariahs Harry and Meghan. Which is interesting. Again, as with a lot of these things, I don't care enough to have an opinion on the matter: I mean Meghan Markle is probably a bit of an attention-seeker and opportunist, but it's still interesting how a general public that was apparently overwhelmingly Team Diana in the past is now apparently so dismissive of the son who seems to be trying to follow in her footsteps.
Again, not that I care enough to have an opinion. But it can't have escaped everyone's attention that the mostly right-wing media spends a hell of a lot more time attacking Harry and Meghan than it does looking into what Prince Andrew was up to with Ghislaine and Epstein.
Likewise, the media has barely ever looked into Charles's relationship with Jimmy Saville, the allegations against the late Lord Mountbatten, or a number of other potentially damaging items relating to high-ranking royals (some of which was previously touched on in this older article).
But again, PR-wise, the House of Windsor has done an extraordinary job of improving its image – and its relationship with the general public – over the last twenty years or so. The Queen herself has been at the absolute center of that – whether or not she was its architect or whether other forces and influences were. You cannot argue with her level of popularity towards the final years of her reign: as testified to by the five-mile long queues of ordinary people waiting hours and hours in the cold just to catch a brief glimpse of her coffin.
---
The event of the Queen's death itself – with all the painstakingly drawn-out ritual and near-deification – seems almost designed to cement the monarchy's hold on the British imagination and national identity.
---
Curiously enough, the ending of the 'Second Elizabethan Era' and transition to Charles III might actually see a further change in the royals' connection or relationship with its 'subjects'. It can't have escaped anyone's attention that King Charles and the new heir-to-the-throne, Prince William, were very particular about getting close and personal with the crowds and well-wishers outside Buckingham Palace in the days after the Queen's death: shaking hands, taking selfies, even allowing hugs.
The King even allowed one or two members of the public to kiss him on the cheek: this is all entirely new behaviour for the royal family. Neither Queen Elizabeth, Prince Philip or any of their predecessors, would've *dreamt* of getting that close to members of the public or allowing physical contact – the idea would've been unthinkable.
Not only is this new, more modern, behaviour obviously a calculated change by the Queen's successors, designed to foster a closer connection between the senior royals and the public, but it is clearly influenced by Charles's ex-wife and William's mother. It was Diana who originally broke with royal etiquette by getting much closer to people in public: something that flew in the face of how things were supposed to be done.
The general consensus is (or at least used to be) that it was Diana's wedding to Prince Charles that had reinjected 'life' into the royal family back in the 1980s. This was after a long time in which, other than passionate royalists, most of the general public had little or no sense of affinity for or connection to a monarchy that was seen as cold and distant.
The family was in fact seen as so aloof and removed from the common people that a supposedly groundbreaking television special in 1969 – a fly-on-the-wall documentary look at the royal household and its daily routine – was later pulled from the air by the royals because it made them look too normal (?).
I guess the Queen didn't like that it made them seem so mundane that it threatened to remove some of the mystique or otherwordliness that the royal bloodline should have about them. I've checked and there's currently a full version of that film on YouTube (see here). The odd thing is that this was exactly the programme The Firm wanted to make it in the first place: to help the common people feel more connected to them. But, evidently, they had second thoughts once they reviewed the footage.
---
Which just demonstrates how difficult the royals found it to connect with the people or to present themselves in some kind of sympathetic light.
---
Clearly, both Charles and William both decided – immediately after the Queen had passed away – to try to adopt some of this more open and less aloof behaviour that Diana had initiated decades ago.
The fact that this shift, particularly from Charles, was pretty much immediate suggests that he just wasn't comfortable behaving that way while his mother was still alive. In fairness, Elizabeth II was naturally a product of her own parents and upbringing: and ascended to the throne in a very different era. She allowed for about as much change and 'modernisation' of the royal family as she could've been expected to during her reign: but Charles and William probably understand how the monarchy's behaviour – and the way it is perceived by the public – needs to evolve even more if the monarchy is to survive.
And the ultimate irony is, again, that the essence of this change is probably more influenced by Diana than Charles would ever comfortably admit.
It appears that, for better or worse, the monarchy is probably here to stay. And that we are, at heart, a pro-monarchist country on the whole. Which makes us, in essence, a pro-Establishment country and a country that generally accepts the class system and generally defers to its elites.
Again, not necessarily surprising: but the past two weeks proved to be instructive and educational, in terms of understanding what the core or prevailing British mindset is.
Again, for better or worse, I don't know. It just is what it is.