There are some days when the sheer scope of the idiocy makes me want to not get out of bed.
If ever you needed proof of how many witless muppets are – hook, line and sinker – caught up in the 'race war' or 'clash of civilisations' psy-op, you need only witness the tedious #FreeTommy or #FreeTommyRobinson hashtag and the scores of 'patriots' or useful idiots protesting the former EDL leader's arrest, both on-line and on the streets.
Either there really are legions and legions of dull-witted racists out there who wouldn't know arse from elbow… or Wi-Fi access really should be limited to people who can pass some kind of basic intelligence test first.
But, to paraphrase a famous saying, a hashtag can be halfway around the world before reality has even gotten its boots on.
Contrary to what seems to be a carefully-contrived misconception, Robinson's 13-month prison sentence has nothing to do with 'freedom of speech' or anything he has said, but actually stems from simple 'contempt of court' – due to the fact that Robinson live-streamed footage of defendants arriving in court to Facebook.
The controversy Robinson was getting involved in was to do with one of the grooming gangs who'd been running what were basically 'rape rings' targeting vulnerable young girls – and which consisted more or less entirely of men from Pakistani or otherwise Muslim backgrounds. The crimes in question were horrendous; and the way these cases were mishandled or covered up was beyond disgraceful – but that's a different subject.
But the way some sections of the Internet's dunce's corner are portraying this Tommy Robinson comedy act, you would think Robinson's sentence was an overt attack on freedom of expression and that Robinson is some kind of heroic martyr to free speech: conveniently ignoring the fact that the same EDL/Pegida provocateur has previously been on the BBC, in mainstream newspapers, on breakfast television with Piers Morgan, and all over the country, very much enjoying his freedom of speech in order to stir up the racial, religious or cultural conflict psy-op that he is now so much a part of.
Indeed, it's freedom of speech that has made Robinson such a high-profile, influential figure: hardly anyone in living memory has profited so much from freedom of speech. And it was simply contempt of court (after he'd already received multiple warnings) that got him put in jail.
Of course that hasn't stopped the flood of support for the hate-preaching former BNP (and now PEGIDA) man, both domestically and abroad.
Nor has it stopped the low-IQ social-media sheep from getting up in arms as if Robinson was some new Nelson Mandela confined to a new Robbin Island.
Half a million people in the dunce's corner have apprently signed the petition to "free Tommy Robinson". That dunce's corner has gotten bigger than I thought it was – and I already thought it was pretty massive.
Rallies and protests have also resulted in clashes with police, with reported injuries. Protests haven't just taken place in England, but apparently elsewhere in the world too, including in Tel-Aviv (no surprise there) and in Texas.
It's no surprise the #FreeTommy campaign has also had high-profile backers of the worst kind, such as the Dutch comedy act Geert "what we need is Zionism for Europe" Wilders, Donald Trump Jnr, and the mentally-ill American 'comedienne' Roseanne Barr who tweeted this.
It's worth noting – for the terminally stupid – that Robinson isn't some kind of conscientious, peace-loving Gandhian figure daring to speak out: he has a long history of clashes with the police and run-ins with the law.
As well as being brought before judges on various counts over the years of violence, racist provocation and disorderly conduct, he has previously fallen foul of the law for mortgage fraud, among other things, as well as being arrested in the United States – curiously – for entering the country illegally using someone else's passport. On that latter point, note that dodgy passport behaviour is classic Mossad: note also that Robinson's business in the US was to attend an event as a guest of Zionist/Neo-Con agent-provocateur Pamella Gellar – which, as we'll see in a moment, is significant.
We'll also come back to the matter of 'Tommy Robinson' and his passport.
I already published a longer article here about the manufactured 'race war', 'civil war' or societal breakdown that seems to be being choreographed over a number of years, involving the UK, Europe and America. In that longer piece, I broadly explored the relationship between radical Islam and far-right or neo-nazi groups, various expert predictions of coming race wars or civil breakdown and the inescapable conclusion that much of it was being manufactured – via both sides – deliberately.
You can read that article here – which explores this wider subject more expansively.
I covered 'Tommy Robinson' somewhat in that article too, because, as I said then, the manufactured 'clash of civilisations' was being 'created over time via carefully placed figures and 'influencers' who are able to incite hatred or sow division on a large scale.'
---
That's where Tommy Robinson comes in perfectly: in his carefully established role as the white Anjem Choudary – a link that is actually very pertinent and which I will come back to at the end.
---
There have been numerous claims that Tommy Robinson is an intelligence-agency asset or actor (MI5 or Mossad). I've seen no definitive proof of this: but I certainly wouldn't dismiss the possibility either that Robinson, like Choudary, is working for higher powers. Choudary, as we've covered here before, was known to have links with MI5 – something that had in fact prevented British police from arresting him for years.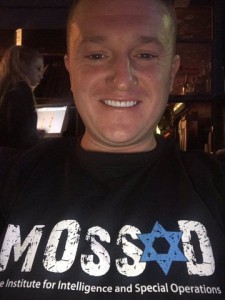 An obvious tell-tale giveaway is the fact that 'Tommy Robinson' doesn't use his real name, but seems to have adopted 'Tommy Robinson' as a public persona. His real name is actually Stephen Christopher Yaxley-Lennon. Even more suspect, he has also previously gone by the names of Andrew McMaster and Paul Harris.
Curiously, the last time I talked here about why we should always be dubious about people who have too many names or aliases was in reference to the Westminster Bridge terrorist from March last year. I suggested then that the terrorist 'Khalid Masood's' history and his various names was suggestive of him being an intelligence agent or asset who probably ended up as a patsy in the Westminster Bridge attack ('Masood' had gone by at least four other names at different times and had lived in different parts of the country in oddly disparate circumstances each time).
Justice Watch put up a really succinct post on this a year ago, particularly on the oddity of 'Tommy Robinson's' multiple names and passports.
---
In fact, the oddities are highlighted further in this coverage of 'Robinson's' court proceedings in 2013 (after he had been found entering the United States with a fake passport for his love-in with Pamela Gellar).
Listen to this bit carefully. We're told that 'the judge called Tommy's "Paul Harris" passport "his real passport", whilst jailing him in the name of Stephen Yaxley Lennon…'
And that he 'then he went onto imply that his "real name" might not be known inside the public realm.'
Uh, what…?
---
And, as I noted after that same Westminster Bridge attack (almost certainly a state-enabled false-flag), it is more than curious that Tommy Robinson and his Israeli-funded 'Rebel Media' crew just HAPPENED to be present on the scene at Westminster Bridge right as the attack occurred.
Seriously? What are the chances that Robinson and his Internet media group would just HAPPEN to be in Westminster making a video about the threat of Islamist terrorism and the urgent need for "patriots" to rise up and do something about it – just as an alleged Islamist terror attack actually happens?
He was also, months later, in Manchester in time for the Arianna Grande concert bombing (carried out by a member of one of the British-sponsored jihadist groups who waged war on Gaddafi in Libya) – Tommy Robinson seems to have a prophetic knack for being in the right place at the right time.
I don't want to go back over how the 'race war' psy-op is being run again (I wrote a much bigger piece on that here): but, at the basic level, you have carefully-placed 'spokespeople' or 'influencers' on one side (like an Anjem Choudary) urging people towards radicaliation and given a big platform for doing so effectively, and then you have similar figures on the other side (Tommy Robinson, Paul Joseph Watson, Britain First, Pegida, Pamela Gellar, etc) apparently reacting to the first group and also urging a different group of people towards radicalisation.
While one is made to look like a reaction to the other, they are in fact both being conducted in concert with one another – creating a deliberate environment and dynamic for broader sections of the population to get sucked into.
Alt-Right figures like Tommy Robinson and Paul Joseph Watson have enormous audiences. Both tend to post up toxic videos calling on 'patriots' to rise up every time an alleged Islamist terror attack occurs anywhere in the West (including the state-enabled false-flags). Watson (of Info Wars) averages anywhere from half-a-million to over a million views per video at the best of times.
As I noted, it has appeared increasingly as though Tommy Robinson is always on hand as soon as something happens. 'New Order Agenda' actually did a very funny (and very revealing) take-down of Robinson, 'Rebel Media' and the whole gang after the Westminster attack, showing how stage-managed that whole production was – I can't link to it anymore because the video (and the channel itself) has been taken down.
Curiously, while the video and channel debunking Rebel Media's coverage has been deleted by YouTube, the Rebel Media video itself has remained up – you can see it here.
–
–
They even say it in the video's description: 'Tommy Robinson and Caolan Robertson of TheRebel.media were in London when the March 22 terror attack broke out. They rushed to the scene to report on it, then returned to the studio for an in-depth conversation about Islamic terrorism...'
Yeah, sure.
Watch the video though – it's the sloppiest, most contrived, scripted garbage you'll ever see.
---
Don't be duped into thinking these people crop up entirely organically and gain high-profile of their own accord or in isolation.

Tommy Robinson is in fact part of a well-funded, well organised network that includes people like Geert Wilders, Pamela Gellar ("If Iran attacks, Israel Should Nuke Europe" – that's an actual quote from her), David Horowitz and various high-profile 'alt-right' figures or opinion-makers.
The literal existence of this 'Islamophobia Network' has been properly documented by now, particularly in the report Fear, Inc. 2.0: The Islamophobia Network's Efforts to Manufacture Hate in America, which exposes the "over $57 million that's been contributed to this fear-mongering, anti-Muslim, anti-Islam organisations by eight very wealthy donors."
CJ Werleman covered this subject, summarising that 'Since 2001, a group of shadowy groups and individuals have spent millions to disseminate misinformation about Muslims into the mainstream media, body politic and public consciousness. The objective? Provide political cover for both the US's war on terror and Israel's war on Palestinians…'
This is of course the same underlying agenda I've been pointing to here for a long time – such as in regard, recently, to Trump's Jerusalem Declaration and the Zionist/Evangelical prophecy fulfilment agenda in the Holy Land.
It's a sign of the strange age we live in now that what would've once been various disparate subjects are now in fact entirely inter-linked – I also wrote a very long, detailed article called 'Seeds of Fascism', which explored the documented Israeli-Zionist link to the rise of Far-Right groups and 'Populist' movements in the West and how the goal was a manufactured 'race war' or clash of civlisations to erupt in Europe and the West, all of which is geared – in large part – towards providing cover for the Zionist extremists who've taken over Israeli government to carry out their longer-term plans.
Again, I won't reiterate all of those details here again (see the article here); but the false-flag terror wave and the subsequent rise of Islamophobia and the accompanying rise of Far-Right groups all seems to ultimately connect back up with the situation in Palestine.
Robinson is merely one player in this widespread network that pops up in different places and under different guises: it's no surprise then that Tommy Robinson is a staunch Zionist, like his friend Geert "Zionism for Europe" Wilders (who, incidentally, attended the protest in London yesterday and made a speech for his friend 'Tommy').
Rebel Media itself, by the way, can be easily linked back to this 'Islamophobia Network'. The Canadian-based platform – which has been desperately trying to be 'edgy' and appealing by using mainly young people to front its content – popped up in 2015 right as the 'terror wave' (mostly manufactured psy-op and false-flag ops) was beginning (with the false-flag attacks in Paris: and in particular the blatant false-flag of the Charlie Hebdo attack – which Israel and Netanyahu himself made enormous capital out of): the timing was therefore suspect from the beginning.
Rebel Media, founded by Ezra Levant, is largely funded via the David Horowitz Freedom Centre, while Tommy Robinson is listed there as being funded by tech billionaire Robert Shillman (who also sits on the board of organisations like The Friends of the Israel Defense Forces).
This is the same David Horowitz Freedom Center that, as noted last year, was found to have donated to Zionist agent Geert Wilders' election campaign in the Netherlands.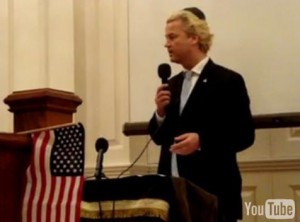 Horowitz, along with other Zionist-aligned American figures posing as independent bloggers of journalists – such as Pamela Gellar and Robert Spencer – has been highly influential in the current climate of right-wing resurgence and pro-Israel, anti-Muslim, anti-refugee propaganda, such as that which underlies Breitbart and the Trump campaign.
Horowitz was specified as one of the most successful peddlers of the anti- Muslim propaganda by the 2011 Center for American Progress's (CAP) aforementioned report Fear, Inc.: The Roots of the Islamophobia Network in America, with Pamela Geller and Robert Spencer (pictured below Tommy Robinson – he is also owner of the highly popular 'Jihad Watch' platform and, like Horowitz, a major player in the Zionist-sponsored 'clash of civilisations' programme).
The same report highlighted pro-Israel donors pouring millions into American hate groups.
'Tommy Robinson' is pictured above with some of his international co-conspirators: Kevin Carol, Robert Spencer and Pamela Gellar – this is an international network, not some minor, localised phenomenon.
---
But let's look at 'Tommy Robinson' again a bit more closely. Who is he?

Robinson, for anyone who doesn't know who he is, is a Far-Right figurehead and agitator who was the founder of the English Defense League (a far-right group essentially started up by classic football hooligans, former BNP members and Neo-Nazi activists), as well as Pegida UK and the European Defense League, having also previously belonged to the British National Party.
He is also a key figure in the highly suspect Zionist/Alt-Right media platform 'Rebel Media', which was gaining traction at around the same time that Israeli ministers were asking Steve Bannon and Breitbart to champion the Zionist cause and demonise BDS.
Like his friend, the Dutch provocateur Geert Wilders (who I've covered here), he self-identifies as a Zionist and expresses an overtly pro-Israel position.
As explored previously, Wilders (who was in the running for Dutch Prime Minister months ago) was investigated by Dutch authorities for his dubious connections to Israeli agencies. Robinson, as far as I know, hasn't been investigated on similar lines: but he probably should be.
Here is an image of a proud Robinson pictured on the Israel/Syria border (the disputed Golan Heights), posing with a rifle and an Israeli military tank.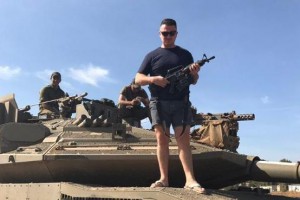 Robinson's affinity for the cause of Zionism isn't something he hides. Last year, he drew condemnation from various Jewish groups and members of the Jewish community in the UK for publicising his "secret meeting" (according to The Independent) with "Manchester Jews" in the wake of the Manchester terrorist incident.
The majority of Jewish people in Britain, particularly traditionally Left-wing Jews, have entirely disavowed Robinson and his various organisations, wanting nothing to do with him. Jewish Voice, for example, is among the most outspoken to condemn Robinson's agitations at every turn, regardless of his pro-Israel positions (their tweet here is unambiguous).
However, as has been clear for some years, right-wing Jews and Zionists (and not necessarily in the UK) have been supporters of Robinson and things like the EDL, Pegida and other far-right groups that thrive on anti-Muslim sentiment. Israeli flags have been photographed at EDL and Pegida rallies.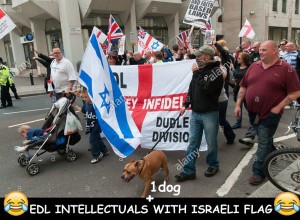 We also know, for example, that there was a #FreeTommy rally held in Tel-Aviv, as reported by Haaretz.
Esther Solomon, writing for Haaretz, talks about the "Israeli fan-boys", writing 'It's a thrilling time to be a racist nationalist. Forget the old days of being marginalized, of the painstaking efforts to recruit activists, of de rigueur haircuts and uniforms. Now, you can build an international grassroots nationalist coalition online with a simple narrative and single hashtag.'
She goes on, 'it exposes, again, a fundamental rift between Jews in the diaspora and Israel's right-wing. Jews in the U.K. want nothing to do with Robinson or his laundered neo-Nazis, but Israeli right-wingers on the streets or in the Knesset, fueled by their hostility towards both Muslims and liberal values, see common ground with the rising stars of racist nationalism and their performative "Zionism"…'
Again, I've covered a lot of this in the 'Seeds of Fascism' article: how an extremist takeover of Israeli government led quickly to international Zionists pushing far-right or 'Populist' movements or figureheads across Europe, America and the West – those connections are documented.
And so 'Tommy Robinson' no doubt falls into the same category as Geert Wilders and a number of others.
The question of whether he is an intelligence agent or agent of the Deep State remains open. If so, he could just as easily be a British agent and not linked to Mossad.
But the passport controversy alone opens up a lot of questions – as does his multiple names.
---
But the fact is that everyone – including the half-a-million half-wits who signed the petition – who falls for this pantomime is simply aiding the psy-op and the agenda. Just like the various half-wits and morons who fell for Anjem Choudary.
---
I maintain that Robinson and the now-jailed British Islamist preacher Anjem Choudary were essentially the same person – just two sides of the same coin: or, as I previously put it, two cheeks of the same arse.
Two high-profile, publicity-loving upstarts seeking to incite public unrest and create the conditions for the 'race war'. There is no real difference, in my view, between Robinson and Choudary.
Both of them are almost cartoon-like caricatures, both on a mission to incite or accelerate racial division or 'race wars', both of them given far too big a platform of celebrity status in the media, and both of them for a long time seeming to give each other the oxygen needed to mutually thrive. Like hero/villain dynamics in many classic comic-book mythologies, one can't thrive without the other.
And both of them have always seemed like actors playing parts – with both Choudary and 'Robinson', there have been numerous times where I've watched them struggling to even keep a straight face when they've been 'in character': you can see the smirks every now and then. It's the same thing you see with Paul Joseph Watson.
The only difference is, as I've said before, is that I don't remember any #FreeAnjem hashtags or campaigns when the extremist hate-preacher was finally jailed – nor any campaigns to make Choudary a martyr to freedom of speech.
Choudary, interestingly enough, has been linked to the intelligence community, particularly MI5 – indeed, police sources publicly complained that the police were blocked by MI5 from dealing with Choudary for years. This, by the way, is the same Anjem Choudary who is accused of indoctrinating scores of young men into jihadism and sending many of them over to Syria to join the Islamic State group.
---
In fact, the perfect demonstration of this 'same arse, different cheeks' dynamic was Waltham Forest, if you'll recall.
---
In 2012, when Choudary (Arse-Cheek 1) popped up in Waltham Forest (East London) and announced to a press gathering that the London Borough was being turned into a Sharia Law zone where strict rules would be enforced, the whole spectacle had manufactured pantomime written all over it. "We want to run the area as a Sharia controlled zone and really to put the seeds down for an Islamic Emirate in the long term", the deluded preacher announced, trying his best to play the role of diabolical caricature villain.
In fact, nothing really happened (there were three or four documented incidents of anti-social behaviour or intimidation by radicalised, low-life half-wits) – and most people in the borough just got on with their normal, everday activities. There was a group engaging in so-called 'Sharia Patrols', but it appeared to be limited to less than a dozen young men (linked to Choudary), several of whom were later arrested.
But the announcement itself gave the media – and not just the UK media, but the international Internet media – everything it needed to run ongoing stories about the 'Islamisation' of British cities.
For years afterwards, right-wing or alt-right websites (including all the usual faces like Pamella Gellar, Richard Spencer, Paul Joseph Watson, etc) and forums (and even some mainstream platforms in the US) ran with this idea of Sharia Law being implemented in British 'no-go areas' where the 'Islamisation' was in full swing. The idea became so embedded and widely accepted (through sheer repetition in online platforms) that the incoming US President Donald Trump has himself repeated it multiple times.
But what the incident also did was provide Stephen Christopher Yaxley-Lennon – oh, I'm sorry, I mean 'Tommy Robinson' (Arse-Cheek 2) – the perfect opportunity to swoop in like the patriotic saviour of the nation, establishing himself as the salt-of-the-earth patriot standing up against the bearded villain of Anjem Choudary and his merry band of wacko Islamists.
With the arena gleefully provided by Arse-Cheek 1, Arse-Cheek 2 and the EDL showed up in the 'Islamic Emirate of Waltham Forest' to fight the good fight and liberate the occupied territory.
Of course, Arse-Cheek 2 goes wherever Arse-Cheek 1 goes – that's how an arse works.
Cameras and video footage, along with news coverage, and much social media hubbub, were all in place at the time, of course, to make it seem or feel like something big was happening – and thus was born the great heroic figure of 'Tommy Robinson'.
Of course, nothing much actually happened in Waltham Forest. Just some gatherings and some counter-gatherings. Certainly, the EDL didn't accomplish anything: the police eventually rounded up a few offenders, and that was about it.
---
But the 'strategy of tension' was now in full effect: and that's basically where we've been ever since – Psy-Opsville.
---
Riding the great wave of the manufactured 'Clash of civilisations' paradigm, 'Tommy Robinson' has established himself as Britain's No.1 'patriot', fighting the noble fight against the foreign hordes and their alien culture: and now he has also cast himself into the powerful role of 'free speech' martyr, a white nationalist's Nelson Mandela, if you will.
What a world.
Tommy Robinson's official website, which is generally hilarious, has all the mock-earnestness of the Anjem Choudary supervillain act. 'Support Me', it says earnestly. 'The truth has to be told. I can't do it without you.'
This would all be so funny – if it wasn't for the fact that at least half-a-million people haven't spotted the joke.
---
More: 'SEEDS of FASCISM: The Truth About International Zionism, Far-Right Populism & the Return to the 1930s','Islamist Extremists and White Supremacists – The Coming Race Wars & Societal Breakdown' 'Trump, Jerusalem & the Zionist Apocalypse Fantasy', 'From Orlando to Paris – Mass Psychological Warfare & the Terror Psy-Opera'…
---